Discover New Sales Opportunities Using Customer Lifecycle Diagramming to Identify Customer Needs.
Customer lifecycle diagramming can help you narrow your sales conversion gap and extract more sales per customer visit, more referrals and more total sales. Examination of a buyer's experience may turn up weaknesses that can be fixed with just a few tweaks, yielding exciting results. Just a little time and effort spent in diagramming can make a significant impact on lead nurturing, customer acquisition, retention strategies and in enhancing touch point sequences that delight customers, leading to greater revenue.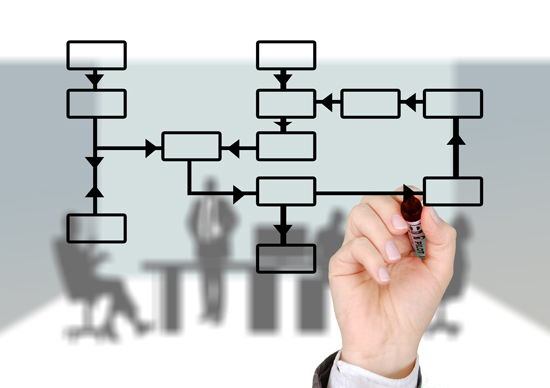 Malcolm Gladwell, author of The Tipping Point, describes the compelling reason visitors pay repeated, sustained attention to a concept, brand or its products as The Stickiness Factor. When companies strive to provide a great customer experience and thought leadership, the effect is a boost in customer satisfaction, sales and internal morale. In other words, customers will "stick" with your brand.
Substantial, Sustainable Benefits
The benefits of a customer lifecycle deep-dive will strengthen your lead generation and nurturing campaign strategy and help you explore new sales opportunities. You will be able to:
Extend and increase the average customer lifetime value (ALV)
Increase average order value (AOV)
Increase referrals to new customers
Streamline internal and external systems, which may in turn
Decrease costs
Pretty powerful, huh? Let's dig into how to go about this creative process.
The Customer Lifecycle Diagramming Process
Start by tracing the buyer experience through every interaction, looking for points where the relationship stalls. Generate an action plan with solutions to increase recurring sales, gain new customers and wring every dollar from your current database. Then expand the plan to touch every prospect with a series of 7-13+ actions. According to a Microsoft study, 89% of sales people give up after a fourth contact, while after a 9th touch, firms had a 90% chance of being ready to receive a proposal. That's why part two of this project is to develop a series of touch points.
Note how in the customer lifecycle diagram below, the process illustrates:
Activities that happen post-sale to put the consumer into a new sales cycle,
Web visitors who subscribe, then unsubscribe and how they re-enter another cycle until they express their delight publicly as an evangelist of the brand.
List Customer Touch Points
Use a similar structure to map the lifecycle of your customers interactions. Start with your list of customer touches to identify missed customer needs, such as:
Customer acquisition and nurturing activities to gain a registration or purchase
Solicitation of upsells and future purchases
Web visitor searches, ease of navigation, queries and replies
Resolved customer retention, phone messaging and other service issues
Responses to reviews
Requests for testimonials
Evaluate how your customers do their research, then examine the entire purchase and customer service process, the follow-up steps and retention system. Scrutinize cases, surveys and methods from stem to stern: sales, marketing, customer care, IT, fulfillment and administration team activities.
Look at how you initially capture a first connection. It's important to capture an email address as soon as possible to begin and continue customer interaction. Review and reconsider incentive offers for email opt-ins. Then review how retention problems and lost clients are handled, as well as the renewal cycles to attract the prospect again, regain trust and eventually acquire a new brand champion.
Initially, your customer lifecycle diagram may look like a tree with lots of branches. Your goal is to create and close loops that solve problems, reward the customer, present new delightful experiences and continue a mutually rewarding relationship. Along the way, you'll identify various additional offers and marketing assets you will need to facilitate operations. You may also revise your FAQs or add a Live Chat feature.
Enhance Your Program Creatively with Touch Point Options
Continually add new content to stimulate customer interest. Here are some examples of customer touch points to generate and plug into the process and department procedures:
How-to videos
Sale sheets
Catalogs to pack with products being shipped
Coupons and discount promo codes
Customer service telemarketing scripts
Checklists
Premiums or dimensional direct mail pieces and oh, so much more.
As you evaluate the customer lifecycle, you may discover opportunities for product development to increase the available upsell options, for instance. You may revise procedures and retrain team members or change the website to increase speed and improve search results and navigation. Marketing, PR and customer service staff may monitor community and social media activities more closely. Marketing may provide accounting, customer service and sales with additional materials (bill stuffers, thank-you cards, email templates and post-call surveys) as well as revise or expand messaging, ads, newsletters, emailings and landing pages.
Example of Customer Touchpoint Sequence
In B2B sales, it easily takes 7-13+ touches to close a deal over $100.  Let's walk through a possible customer scenario that might give you some ideas:
A business starts by using a free white paper to secure an email address.
The Thank You page where the white paper is downloaded offers a 25% discount on a first purchase reminder from the site with a link back to a landing page related to the white paper topic.
The customer makes a purchase and sees other products bought by other customers who bought this same product.
The Thank You confirmation page provides an opportunity to share with friends.
A follow-up email asks about satisfaction and provides a link to provide a review.
If a customer languishes without activity for a given period, customer service may reach out by phone, email or direct mail with another incentive, such as a discount for permission to autoship product.
The freebie, discount or incentive that leads to a renewal triggers follow-up thanks, sharing, reviewing and enticements.
A request for a testimonial or referral may offer a free month of product or service.
With the hard work done, the team can enjoy better results as they modify and maintain the program to make it constantly relevant and engaging. Both the company and the consumer will enjoy the results of improved lead acquisition, nurturing and retention strategies.
If you need guidance to map your customer lifecycle process, we can help. Get started with a free marketing reverse sales lead funnel audit. Contact us for a free consultation!
Recommendations
Want to read more?
Get inspired by our successful strategies, tactics and results of Meeting Making Campaigns in Case Studies. Beasley Direct provides insightful guidance into the lead nurturing process in our free white paper: "Why It Takes 7-13 Touches to Generate a Qualified B2B Sales Lead Today."
By Laurie Beasley, Co-Founder and President, Beasley Direct and Online Marketing, Inc.
Summary

Article Name
Diagramming Your Customer Lifecycle to Turbo-charge Sales
Description
Diagraming your customer lifecycle can help you narrow your sales conversion gap and extract more sales per customer visit, more referrals and more total sales.
Author
Beasley Direct and Online Marketing, Inc.