Managing Pay-Per-Click Advertising
PPC advertising is powerful because it reaches targeted web users as they are searching for the exact product or service that you offer. This ability to get in front of a targeted audience when they are looking for a solution you offer makes it much easier to turn them into customers. You can make sure they see your ad first by using the right keywords. But, keywords can be expensive. You need to know which are worth paying for and which are not. Also, you need to know how to write relevant ads that get responses and high marks on Google's Quality Score. A good Quality Score lowers campaign cost while improving ad position. There are tools that can help, but it's an art as well as a science that our professional Pay per Click management experts have perfected.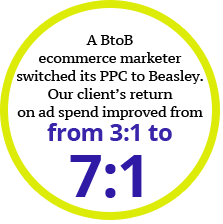 Beasley has been managing PPC advertising for clients since 2002, a lifetime in Internet years. Our clients have included B2B and B2C ecommerce, high technology, hardware, software, healthcare, and financial services among many others. Our differentiator in this highly automated medium is the human fact. We have the skills, experience and instinct to test ads, keywords and landing pages while using tools in a way that maximizes your results within budget.
We have managed PPC campaigns for clients that spend $1,500 per month and clients that spent $250,000 per month. Each gets personal service from a senior person and not just an auto-generated report at the end of the month. Our philosophy is to "never settle" and continually test, because the marketplace is always changing. There's always room to increase campaign ROI while lowering costs.
SPECIAL OFFER:
Get Your Free Google Ad Audit!
Focus Product Design presented Beasley Direct with the challenge of reducing spend on PPC advertising while maintaining lead quality and lead flow. Beasley Direct was able to achieve a 50% reduction in PPC advertising spend while maintaining both quality and quantity of inbound leads.
We highly recommend Beasley Direct and Online Marketing, Inc. for Pay-Per-Click Advertising on Google Ads, Facebook and LinkedIn. Beasley works very hard to meet tight deadlines and budgets. We are a start up and needed to experiment with a lot of different offers and they were very patient with us to write, and re-write and launch many new ad groups and continually measure results. They exceeded our expectations in every task we assigned them.
We are a non-profit, and Beasley handles our Google grant account. Google grants can be difficult to manage and fully utilize, but the staff at Beasley has helped us to make the most of this account. We are very pleased with the results that Beasley has provided for us!