Web Analytics
A wealth of data is available on the people who use your website, and Beasley, as a seasoned and professional web analytics agency, can help you read it in a way that furthers your business goals. Many marketers think of this process as "analytics reporting", but the real value comes in the way data is defined and then linked by your Google Analytics consultant prior to producing your reports.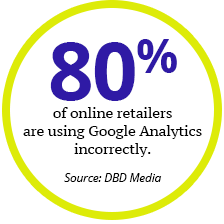 Here's an example: have you linked your Google Search Console (a.k.a. Webmaster Tools) to Google Analytics? Do that, and you can understand how people search for you with data presented in a single, easy to read interface. See your top 1,000 daily queries and where they originated, including your position on the referring site and how many times your link appeared and was clicked. This shows you where you're doing well and where you need to improve.
Another question: are you using Google Analytics in conjunction with your AdWords campaigns? Beasley can help to integrate all of your cost, impression and CTR data into your Analytics so that you have the full picture of the effectiveness of your paid search campaigns. We will also work with you to integrate other marketing channels into your site analysis, including social media campaigns, email campaigns and traditional display campaigns.
Through external data your Google Analytics consultant can also analyze the devices used to access your site and find the balance of mobile vs. desktop platforms, then spot any platform-based limitations users are encountering. Or, take a look at the average page download speed to find technical problems. This data and more is easy to find and easy to analyze if you know how to use it.
We are a Google Analytics Certified agency and have been analyzing Google results from the turn of the century (when it was called Urchin). Each Beasley Google Analytics consultant starts the process by understanding your business goals and your sales cycle as well as needs for your website which go beyond marketing. We can then recommend the most meaningful data and reports, set up your tracking, and train your staff on how to use analytics going forward. Contact us and let us be your professional web analytics agency.

SPECIAL OFFER:
Get Your Free Google Ad Audit!
Beasley Direct has been very helpful and supportive in many of our digital marketing efforts. They take the time to understand our company culture, internal challenges, and helped us identify marketing pain points as well as the low-hanging fruit. We're happy with the results we've seen with our website along with our digital reporting.