Social Media Marketing Services
Social media for business is about the creation and exchange of publicly shared user-generated content (UGC) as social proof, reflecting great products, services and teams. While consumers think of social as a way to keep up with their circle of friends and acquaintances, businesses recognize it as a way to provide customer service, do market research, gain user feedback and (when done correctly) promote a brand.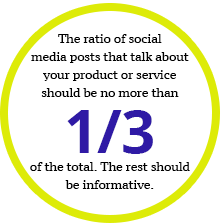 Outsource your social media marketing activities to Beasley Direct and Online Marketing to: 1) create valuable content in well-planned streams, 2) respond quickly to followers and 3) encourage influencers and followers to share positive messages and reviews that our team nurtures and leads to successful conversions.
Our à la carte social media marketing services menu provides content creation, influencer development, social media repurposing and posting strategies with keen analysis, plus a Rapid Growth program which typically delivers 75-200 new followers/day. Our content team capabilities run the gamut from creating white papers, e-books, images and video development to blog posts, press releases, article creation and more. Our social media management edits content into various formats for multiple platforms, conducts engagement and customer service, posting, tracking, and reporting. The team stays on top of new trends and opportunities to recommend expanded social media reach. Further, we can help clients on Instagram quickly ramp up their base.
Beasley's social marketing experts help our clients achieve success in social media through a three-step process. First, we understand how to find the thought leaders and influencers in your space and determine the kind of content they favor.
Then we begin to engage with the community by offering useful, nonpartisan information. Only after we have established your knowledge and expertise do we begin to talk about your product; and when we do it's in a measured way as we continue to provide objective social marketing content.
We also help you to systematically listen to your social media audience to make sure your messages resonate with the decision makers you want to reach. As part of our social media management services, we analyze social media traffic to your website to give you a full view of how it ties into sales or other metrics. Additionally, we help you optimize your website so it becomes part of the social media ecosystem with sharing features for visitors who want to repost your content.
Most importantly, as your social media agency, we work with you to strategically create an editorial schedule that makes sense based on your market and your resources. Once you've become part of the conversation, you want to be a regular participant with a consistent voice. We can help you organize and leverage the expertise within your company for self-generated content and/or add our original social marketing content as desired.
The initial discussion with Beasley about the goals of our campaign and the follow up completed has been a very pleasant experience. They pay attention to targets, budgets and completion of the task at hand.