SEO Marketing Services
Properly performed, Organic Search Engine Optimization (SEO) will make your site more visible to search engine users. Importantly, these are users who are actively engaged in seeking information about products and services you offer. You will gain valuable traffic from searchers in the market for your products or services. But, only if your website shows up high on the search engine results page based on a relevant search phrase.
Get a Free SEO Audit — Learn more.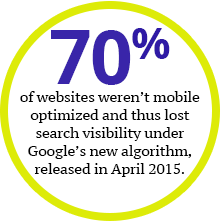 SEO is parallel to, but distinct from, Pay-Per-Click (PPC) Marketing. With PPC you pay for placement and results. SEO isn't "free" either. It takes deep analysis and lots of elbow grease, on your part and ours as a professional SEO marketing services company. This ensures content is properly presented for discovery. Also, it takes an awareness of the current requirements of Google, Yahoo and Bing. Another key point: these requirements (defined through non-public algorithms) are constantly changing. Search engines are continuously updating their algorithms to provide the best possible results for their users.
Avoid Google Penalties!
Our SEO marketing services pros properly perform SEO to help you avoid penalties for accidentally violating the engines' rules. These rules penalize spam—content which is designed to game the system, rather than serve users. In addition, we've found that almost all sites have at least some content that could be called spammy. And, almost always it's unintentional. Often, this content was created based upon outdated SEO practices, which Google now considers as spamming. Our experienced SEO consultants can help you find it and fix it. Furthermore, we can even help you escape a manual Google penalty if the worst should happen to you. Contact us now and speak with one of our SEO consultants!