What Distinguishes Beasley Direct and Online Marketing SEO Marketing Services?
Our SEO marketing services combine 15 years' experience at the leading edge of SEO marketing with a fierce commitment to raising your website traffic, lead counts and sales. You won't see a "cookie cutter" or template-driven approach to boosting your SEO scores. Even clients with deep SEO experience have said our methodology for improving their SEO marketing delivers customized levels of service they've never seen before.
Why will Beasley's SEO Marketing Services Dramatically Improve Your Results?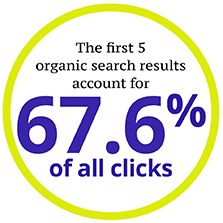 Our SEO marketing services integrate state-of-the-art tools with processes designed to boost your website's organic search rank—raising its visibility to active, in-market searchers. Optimizing the organic/free search rank for your products or services will increase leads, sales and ROI.
Just What is Organic Search Rank? Why is it so Important?
Organic search rank is the position your pages appear on for unpaid search results when people enter an important keyword into a search engine. If your website doesn't appear on the first page of results, you're in trouble. It means your website is losing leads and sales to competitors who have good SEO that meets search engine requirements.
How do Beasley Direct and Online Marketing, Inc. SEO Marketing Services Work?
Beasley SEO marketing services take a 360° approach to maximizing your SEO results. Our three-phase process combines holistic site analysis and solution recommendations, and includes:
Comprehensive Technical Audit
Traffic benchmarks to measure effectiveness of all implemented SEO marketing services recommendations
Authoritative position of the website and pages
Architecture (sitemaps, Google Search Console configuration, blog & news sections)
Page errors (4xx, 5xx, temporary redirects, loops and chains, review of tags (index/noindex, canonicals, hreflang)
Directory structure (names, URLs, crawl depth)
Internal linking practices and content management system (CMS) review: site security, plugins, h1's…h6's, CDN, page indexability, page speed)
Image size
File compression
Mobile Usability (clickable elements, text size, viewport setting, content vs screen size)
Deep Content Audit
Keyword research
Writing of META title and description
URL "slugs"—these are the last part of the URL (https://companyname/product-offered/) the "slug" is the /product-offered/ part
Mobile-first design review
On-page copy updates (recommended video, Q&A, content)
Alt-tags for images
Dynamic Link Building
Researching competitor's successful link acquisition
Creating a list of high-quality link targets
Removing toxic links
Outreach for link acquisition
Creating Citations (mentions on other sites, industry directories)
Plus, full reports—including detailed walkthroughs and implementation recommendations from our SEO experts—are provided with each of the above.
Are You at Risk of Penalties from Google?
If you haven't performed an SEO audit lately, your site could easily breach best practices and Google's latest guidelines—because nowhere in marketing do the rules change faster than with SEO. For starters Google and other search engines constantly change their crawl algorithms, which can affect your website's organic page rank. Worse, Google constantly updates its definitions of spam—which it penalizes. Almost all sites have some content that's spammy, since content was created based upon outdated SEO practices. Our expertise eliminates that risk.
How are SEO and Pay-per-Click (PPC) Different?
SEO is distinct from Pay-Per-Click (PPC) Marketing—where you pay for ad placement and results. But there's no free ride with SEO. Successful SEO takes a lot of work on your part—guided by deep analysis from a professional SEO marketing services company like Beasley Direct and Online Marketing, Inc. And remember: Search engines continuously update their algorithms to provide their users the best results. So it takes awareness of their current requirements to ensure the best results for you.
Get started optimizing your site for organic search now.
SPECIAL OFFER:
Get a Free SEO Audit
We hired Beasley Direct and Online Marketing to help assess ways to improve organic search for one of our financial services clients. The improvements Beasley helped us realize were beyond our expectations. Within a few months of launching the changes, the site is experiencing a 72% increase in organic impressions and a 51% increase in clicks.
The Beasley team provided us with exceptional service and support. Not only did they increase our SEO results, they educated us each step of the way so that we could apply the same logic to the rest of our site moving forward. Laurie and her team showed great consideration for our needs from the beginning and made sure our work together was customized to our particular requirements throughout our entire project. It has been awesome establishing a relationship with Laurie, John and Andy and we cannot wait to continue working with them!
The Beasley team was wonderful to work with. They patiently and expertly helped guide us through the SEO process. They were very knowledgeable – subject-matter experts, organized, communicated well and in a timely manner and they kept us on track. Beasley was always available to answer our many questions. Before we began working together, we spoke to a few different companies and Beasley was much more advanced and offered so much more than the others. It was a no-brainer for us to choose Beasley.
Beasley Direct and Online Marketing, Inc. was a pleasure to work with on our recent SEO project. They were patient, methodical, and thorough. Most and best of all, their focus is on educating the client so future results can be attained without their direct involvement. This is what sold me on Beasley versus the other firms. They were heavily involved with the research and strategy for this initial update and I know they will be there for us to review and guide us in the future.