Making the Right Impression.
A landing page is the gateway to your site—the first thing a visitor sees after they find you through a search or click on a link you've provided. Make a positive impression here, and you're on your way to a lead, a sale, even a long-term relationship. Fail and you've lost an opportunity since it's all too easy for a disinterested or confused web visitor to click away. This hands-on guide will help you make the right impression, every time.
There are several different scenarios in which a landing page can exist
These scenarios depend on what brought your visitor here and their intent when they arrive at your site:
1. A brand landing page (typically your home page).
Your prospect has done a search for your company or for the product or service you provide. It is fine to devote your home page to a statement of your unique selling proposition or mission statement, but you should also provide easy-to-find opportunities for engagement. And, since you don't know where the prospect is in the buyer's journey, these might include case studies or fact sheets for researchers, or free trials and contact information for more serious buyers.
2. A search marketing landing page.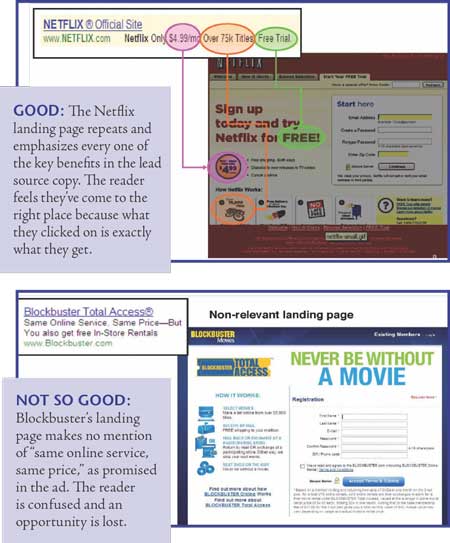 This is what the prospect sees when they click on a Google, Bing or display ad. The #1 consideration is to echo the promise/offer/benefit statement that brought them here, and make the call to action easy to complete.
The Netflix landing page echoes the key benefits in the lead source copy while Blockbuster's page makes no mention of "same online service, same price" as promised in the ad. We all know how this competitive struggle played out.
3. A lead conversion landing page.
You've marketed to the prospect through direct mail, email, an infomercial or other contact and they've nibbled at the bait. Now you need to convince them that it's worth providing their contact information in order to access a white paper or appropriate offer. (But not always: increasingly, website cookies allow you to track a visitor without asking them for information directly.)
4. An e-commerce or retail landing page.
As consumers become more confident about buying online, it's increasingly likely they will arrive at your landing page ready to place an order. The landing page needs to include all the components necessary to facilitate that process including credibility-building, objection-killing testimonials or reviews, a limited time offer, and a link to your shopping cart. It may or may not show price since, if you include the price, that's the first (and perhaps only) consideration prospects will evaluate in making a buying decision.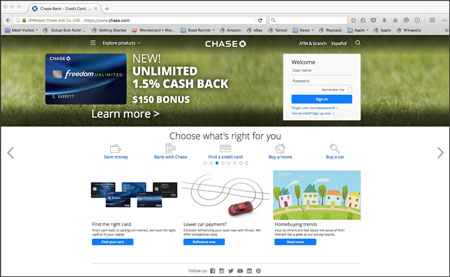 TIP: If your business depends heavily on lead generation, you might consider making your home page an actual landing page. This Chase Online page is heavily oriented toward helping consumers choose a credit card; existing customers must sign in through a small link at the top.
Ready to get started optimizing your landing pages?
Here are five steps you can take to make your landing pages more effective and more productive — starting today:
1. Look at a few of your pages on a mobile device. If they look like dollhouse versions of your desktop pages, get the help of a responsive design developer immediately.
2. Make sure your landing pages have a clear call to action. If not, rewrite the copy immediately.
3. Make sure you are testing more than one offer. If not, review your library of white papers and resources and come up with fresh options. You can even combine multiple documents (including sales sheets) to create a "Solutions Kit" with high perceived value.
4. If you use forms on your landing pages, analyze the fields and see if everything is absolutely essential. If these requests came from your sales team or another department, ask them what they're doing with the information. Then consider testing shorter forms, and tracking the results.
5. Ask Beasley Direct and Online Marketing, Inc. for a FREE critique of the landing pages for your current campaign. We'll review them against best practices, congratulate you for the things you're doing right, and give you tips if appropriate to make your landing pages work even harder. To get started, fill out our contact form.
Author
Laurie B. Beasley is co-founder and president of Beasley Direct and Online Marketing, Inc. We are a Silicon Valley direct marketing agency that has managed search, email, online, and demand generation campaigns for nearly 100 companies. Ms. Beasley serves as President of the Direct Marketing Association of Northern California. Laurie manages the eMarketing Roundtable for the BMA Northern California. She also instructs online marketing at UC Berkeley Extension and teaches for the Online Marketing Institute. Ms. Beasley frequently speaks on online marketing and demand generation topics for marketing organizations, including the DMA, BMA, AMA, Tech Council, and the Online Marketing Summit.
Our agency brings the latest marketing strategies to online and direct marketing. The company provides services in email marketing, search engine optimization, social media, pay-per-click (PPC) advertising, website design, media planning, direct mail marketing, lead generation and nurture campaigns, and database management. We help clients in both B2B and B2C marketing. Beasley Direct is privately held and headquartered in the Silicon Valley suburb, Morgan Hill, California. For more information, go to www.BeasleyDirect.com or call Laurie Beasley, President, at 408-782-0046 x21 or email [email protected].