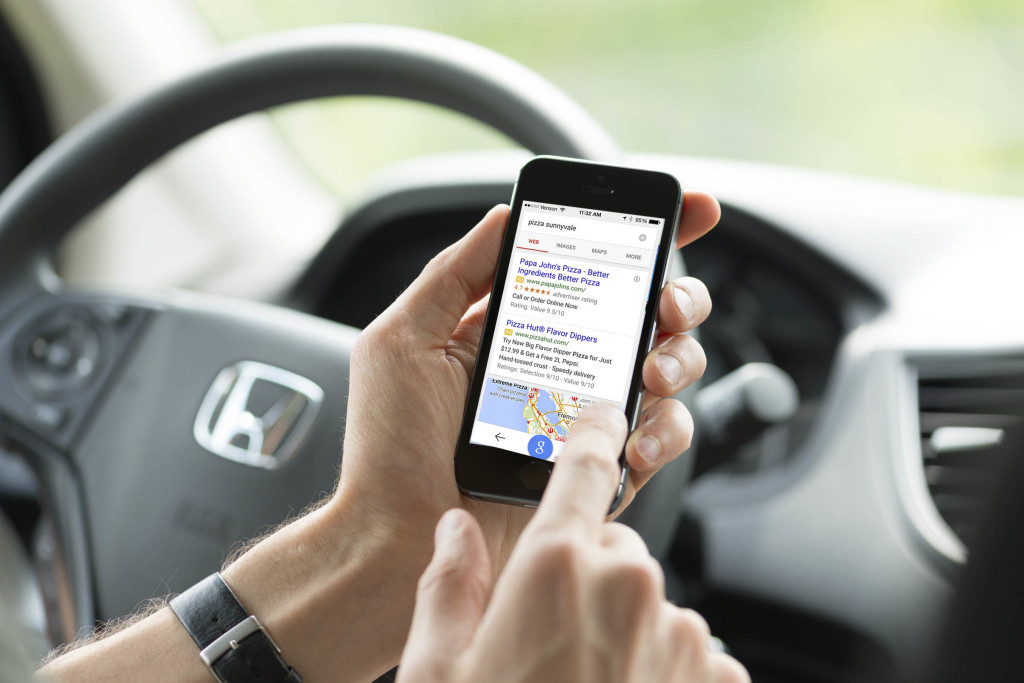 By John Thyfault, Vice President of Search & Social Strategy, Beasley Direct Marketing
 Local & Mobile SEO Go Hand-in-Hand
One of the great advantages of the Internet is global reach. For the first time in human history, anyone can send a message that potentially will be seen in every corner of the earth. It was only after we came down from this global high that we realized that most business is transacted locally, and we needed a way to make Internet searching effective at the local level. After all, 30% of all searches have local intent, and most of these searches are also commercially related—that is, the searcher intends to spend money.
This brings mobile SEO into play. Fifty-nine percent of all local-intent searches are performed on a mobile device, usually while the searcher is on the go, and often when the searcher is ready to purchase. So optimizing local search marketing also means optimizing mobile search.
In late 2014, Google began sending notices via Webmaster's Tools, identifying issues for mobile search. In late February of this year, Google announced it will be incorporating mobile SEO ranking factors into mobile phone searches—meaning that if your site isn't mobile, your site will not rank well on mobile searches and your traffic will suffer. (See our blog posting, "Get Your Mobile Site Ready: Google Making Changes to Mobile Algorithm.")
Google noted the following common errors in the way mobile sites are set up. All of them make mobile searching more difficult and frustrating:
Blocked JavaScript
Unplayable content
Faulty redirects
Mobile-only 404 error notices
App download interstitials
Irrelevant cross-links
Slow mobile pages
Most B2C local searches have a strong geographical component because the searcher is usually looking for the nearest location where they get can the product or service that you are offering. They do not want to wait for shipping of products and are looking for local help that can be accessed in person.
On the other hand, most B2B local searches are for professional services and products, so the geographical components are often focused on a service area instead of a store. For example, the searcher seeking "Bay Area copier repair" would be seeking a site that promises to have their local copier technicians arrive in a timely manner.
Best Practices in Local SEO
Google's local search algorithm, known as Pigeon, brought more traditional factors into the local mix such as links and on-page content, and gives more importance to directories.
Google My Business (AKA "Google Places for Business" or "Google + for Business")
Google My Business is the current incarnation of Google+/Google Places business focused pages. This has been a constantly shifting interface for the business owner to use over the last four years. It requires regular attention to build your visibility and assure its shelf life. Google My Business is the ideal place to add content so that Google can see it immediately. Business information, product and service offerings, and physical address need to stay current on your Google My Business page. The reviews that your customers post and the +1's that they click will all help to drive your site up in the search results. You can also use Google My Business to post local news and events for your business that Google will instantly see and work into their search results.
To help your site appear on Google's map thumbnail in the search results add a Google map page to your Google My Business page. Once that is done, copy the link from the Google My Business map and embed it as the map on your main website.
Remember not to use reviews or +1's on your site from Google My Business. Google frowns on this practice as creating "duplicate content" and will treat the copying of the +1s and reviews from your Google My Business page to your site as a form of plagiarism, discounting the value of them on both your Google My Business page and your website.
Directories
Getting listed on directories thus becomes even more important. While directories assume greater importance and value under the new changes, it is still important to assure that the directories are curated and subject-specific. Google discounts directories that are a mishmash of unrelated business and services, or full of broken links and no-longer-extant businesses. However, even very locally focused directories are useful—neighborhood associations, local charities or a directory of businesses specific to a particular neighborhood, for example.
Once you're in a directory, do everything you can to rank well within the directory. Local directories can get listed high in the Google search results when they are quality, relevant directories. Analyze the sites that are ranking well, learn from what they are doing successfully in the directory's eyes, and use this data to drive your site to the top of the directories—and in turn, to the top of Google search results. This is called "Barnacle SEO," with your directory listing being the barnacle on the much bigger "ship" that is the directory. Your listing "lives" on the ship and travels with it to the bigger Google search results. You can find some great best practices on barnacle SEO at Moz's WhiteBoard Friday webcast.
Reviews
Reviews are extremely important in helping to boost your ranking locally and on mobile. Get reviews on your social media, such as Google My Business, LinkedIn, and Facebook. Third-party reviews on sites such as Yelp! are key drivers in the Apple (iOS) Maps app. There are tools out there to help you maximize the impact of reviews. Look into BazaarVoice and similar services.
Be sure not to duplicate content from one review site to another, as this makes it appear that the reviews are not from genuine consumers. Also, never engage a service that promises hundreds of great reviews. Search engines are smart enough to detect fake reviews through similar language patterns, and this will work against you, not for you.
Claim Your Social Media Territory and Work It
Social media is a hungry beast. You have to feed it all the time for it to be successful. Obviously, you can't participate in every social media platform out there—nor should you. Pick the ones that are most likely to reach your audience. In B2B, these would likely be Facebook, Google my Business, LinkedIn and Twitter. For B2C, you might add others such as Pinterest or Tumblr.
Social media (if properly cultivated) is also a great, no-cost way to send out announcements and invitations to local events.
Consistency Is Key to Local & Mobile SEO
Google rewards sites that show local events, items that will interest the intended audience, and consistent new content. Work at refreshing site content frequently (and remember, it's not all about you; it's about your customers).
If your site is set up to generate sales or leads, that is a promise to your customers that you will respond quickly. Make sure you don't break your promise.
Interact with your customers every chance you get. This demonstrates commitment to customer service and builds preference and loyalty.
For more information on local search marketing, read our guide Optimizing Local Search Marketing.
* * * *
This post was authored by John Thyfault, Vice President of Search & Social Strategy, of Beasley Direct Marketing. Contact John at jthyfault@beasleydirect.com.
John has more than 18 years of marketing, sales and product development experience, and he brings a proven track record of successful campaign, program and product development expertise. His knowledge of search engine optimization and marketing, combined with an in-depth understanding of customer identification, market analysis and segmentation, allows him to deliver high returns on our client's marketing investment for both business-to-consumer and business-to-business markets.
Prior to working with Beasley Direct, John was Senior Client Services Project Director at ThirdAge.com, a first wave baby boomer lifestyle and community website. At ThirdAge he successfully led major client sponsorships for Fortune 100 companies in healthcare (Tylenol), financial services (American Century), technology (Intel & IBM) and consumer products areas (Revlon & Viactive). He was responsible for strategic and tactical goal setting, project management, new product creation and web site production. John previously worked in Channel Marketing and National Account Sales for IDG Books Worldwide, the publishers of the immensely popular "…For Dummies" book series. Additionally, he managed the wholesale distributor sales channel for Tor/Forge Books, an imprint of St. Martin's Press.
John is active in local marketing associations, including the Direct Marketing Association, the Business Marketing Association and is currently serving on the board of directors for the Silicon Valley American Marketing Association.
John has taught search engine marketing fundamentals extensively. He has led workshops for the Silicon Valley American Marketing Association, Northern California Direct Marketing Association (DMAnc.org) and the Business Marketing Association. He also teaches Search Engine Marketing at (UCSC's Silicon Valley Extension).