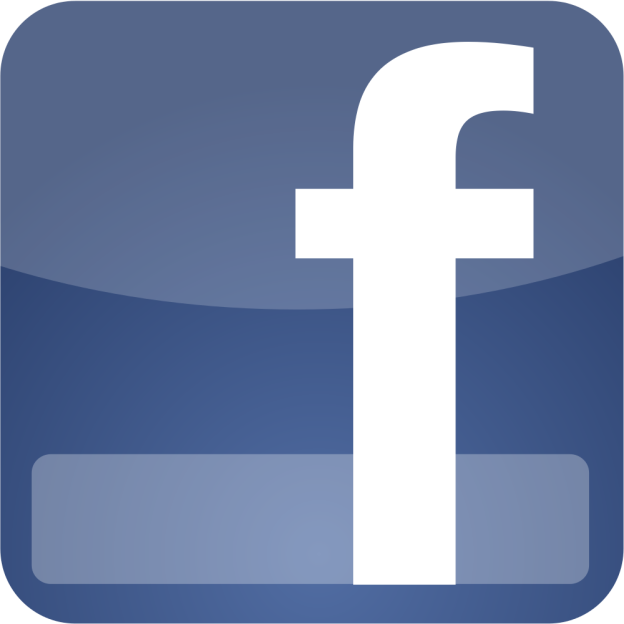 By Elizabeth Beasley, Account Manager, Beasley Direct Marketing, Inc.
Facebook is one of the largest social media sites with more than 936 million daily users worldwide. With such a large user base, Facebook marketing strategies are a great avenue for marketers to promote their company's brand, products, services, and build up a following of loyal fans. In fact, 42% of marketers report Facebook is a critical part of their business. A large part of successful posting and marketing on Facebook is accumulating the largest number of user interactions possible, such as views, likes, comments, or even shares. We'll share how you can get the most out of each of your Facebook posts by optimizing the timing, content, and frequency of posts. (https://zephoria.com/top-15-valuable-facebook-statistics/)
Timing Is Everything
Every minute on Facebook about 510 comments are posted and 293,000 statuses are updated. Every day over six million likes are accrued by daily active users. One would think that with all this activity, any time would be a good time to publish a Facebook post. According to statistics published by Track Maven in their guide "The Marketing Mavens Guide to Facebook," this is not exactly the case. (https://trackmaven.com/resources/facebook-advertising-budget-report/)
Most marketers post during the weekday, with Thursday being the most popular by a small margin, and then the number of posts drops nearly in half over the weekend, with only 9.04% of posts being published on Saturday. Post interactions, on the other hand, have a completely opposite trend. Facebook post interactions actually decrease during the weekdays and then increase sharply upward during the weekends. According to Track Maven, posts that are published on Sunday have 25% more interactions then posts made on Wednesday, making them significantly more effective.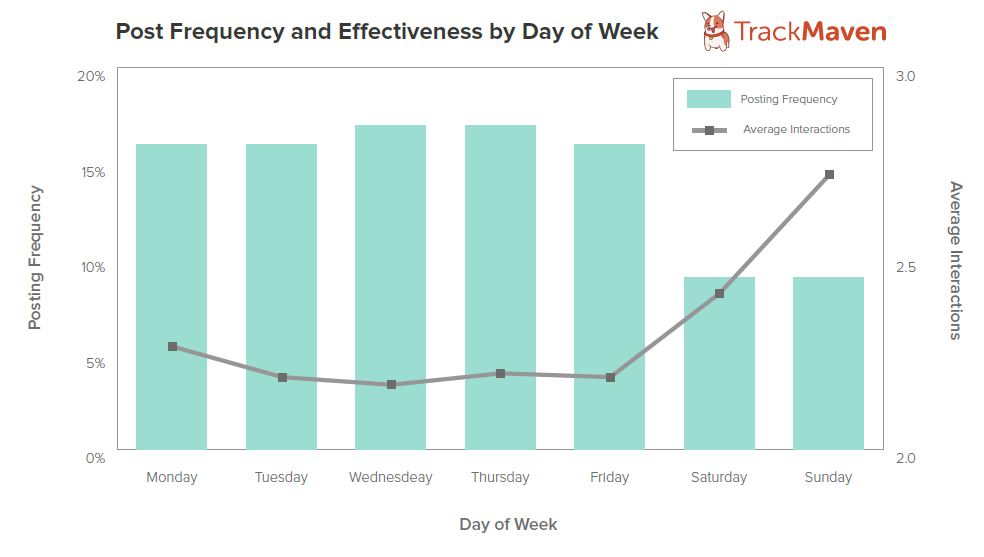 (https://trackmaven.com/resources/facebook-advertising-budget-report/)
Of course, you don't want to only publish posts only on the weekends. Good Facebook marketing strategies maintain a healthy posting schedule throughout the whole week. So is there a best time slot to get the most out of the weekday posts? The answer is yes. The majority of weekday posts occur during the workday, 9:00am-5:00pm. The highest average peak of interactions, however, is found during after-hours from 5pm-1am with an average of 2.49 interactions. This means that posts that are made during, or close to, 5pm-1am are more likely to receive the highest number of views, likes, or comments.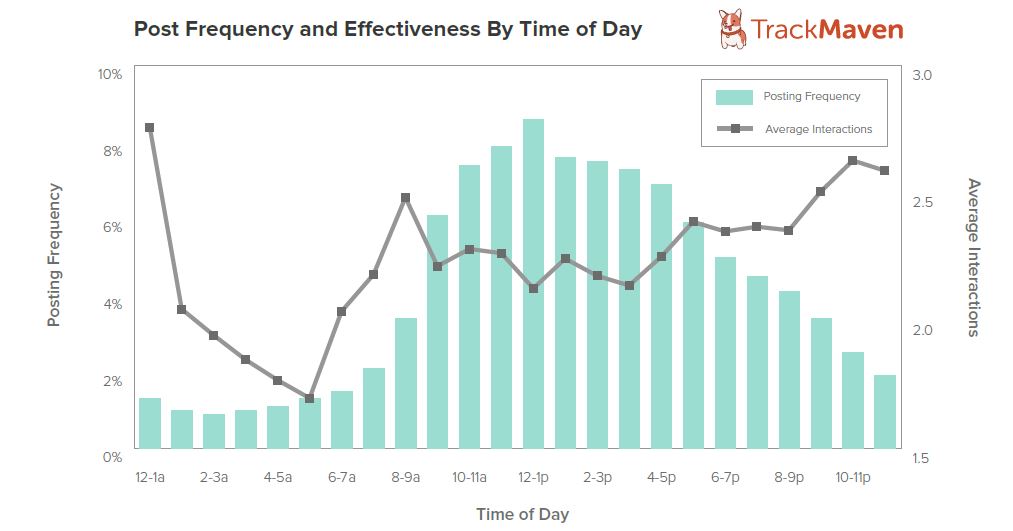 (https://trackmaven.com/resources/facebook-advertising-budget-report/)
Words, Words, Words
Now that you know the best time to publish a post, you have to write one. Since Facebook has no limit to how many characters can be in a post, the writer has the freedom to make a post as long or as short as they desire. Most writers go for the "'simpler is better"' approach, but is that really the best policy for Facebook writing?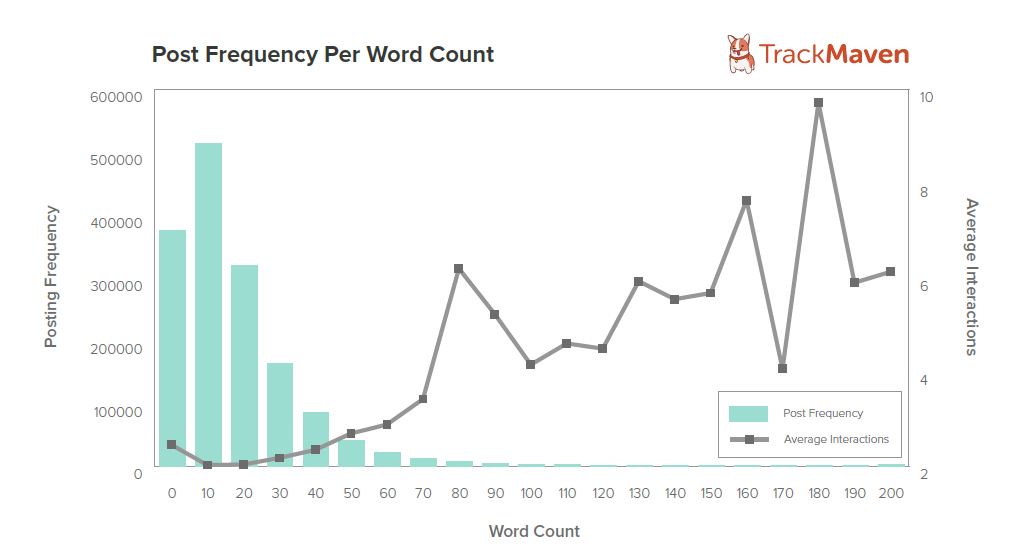 (https://trackmaven.com/resources/facebook-advertising-budget-report/)
More than half of all Facebook posts consist of fewer than 20 words. Posts that consist of fewer than 10 words were the next most common number. However, it may surprise you that posts with a word count under 20 receive the least amount of daily user interactions. What may surprise you more is that Facebook posts consisting of 80 words or more will receive twice the amount of user interactions than posts with a smaller word count. Several theories exist about why this happens, but most seem to agree that people are more willing to interact with a post that requires a time investment.
Call-to-Action
The goal of a call to action is to cause the reader to take a specific action that helps increase the viewership of a post. Track Maven examined four of the most common call-to-action words (Share, Please, Like, and Now) used on Facebook to determine how effective they were at increasing user interaction. All four of these call-to-action words increased the interaction of posts compared to posts that did not have a call to action, with Share garnering twice as many social interactions than the other three words.
When marketing on Facebook marketers must bear in mind there is a potential pitfall attached to using a call- to -action word. Facebook changed its news feed algorithm to penalize pages that engage in like-baiting. Facebook defines like-baiting as "when a post explicitly asks News Feed readers to like, comment or share the post in order to get additional distribution beyond what the post would normally receive." (https://newsroom.fb.com/news/2014/04/news-feed-fyi-cleaning-up-news-feed-spam/) The best way to avoid being penalized by this algorithm change is to use call to action terms sparingly, and find alternative ways to encourage interaction from readers.
What Is a Picture Worth?
Words are only part of creating an effective post. Most marketers prefer to add an image to increase the power of their chosen message. Facebook has one of the largest collections of online photos in the world, and as of February 2014 350 million photos (on average) were being uploaded to Facebook every day. Over 88% of all Facebook posts include an image of some kind, but does including an image in your post increase the frequency of user interactions? The answer is yes; posts that include an image saw 2.35 average user interactions per post while those that did not include a photo only saw 1.71 interactions.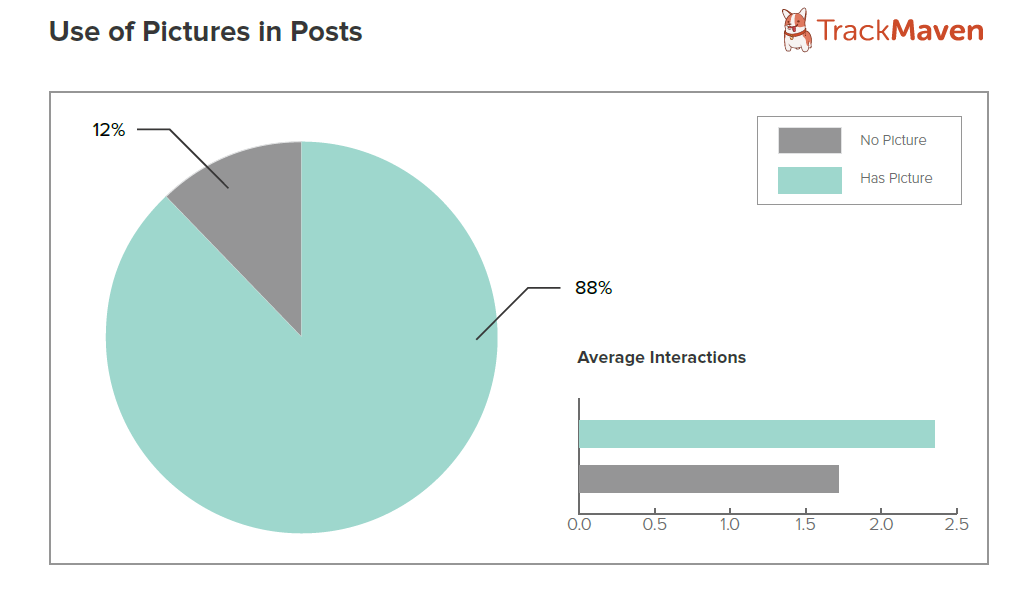 (https://trackmaven.com/resources/facebook-advertising-budget-report/)
How Many Hashtags Are Too Many?
Hashtags are a relatively new part of Facebook, with their use starting to pop up in June 2013. (https://newsroom.fb.com/news/2013/06/public-conversations-on-facebook/) Facebook decided to make hashtags a clickable part of a post in order to allow people to indicate they were a part of a larger conversation or group, and find others who were posting similar content.
About 83.93% of posts do not include hashtags, so it is not the most popular addition to posts. However, posts that do include one or two hashtags saw a user interaction increase of 60%. Posts that had three or four hashtags also had a larger user interaction than posts without hashtags, but the percentage was lower than the posts with only one or two hashtags. Posts that included seven or eight hashtags experienced the largest amount of user interactions, but it is good to note that posts using a lower number of hashtags usually contain better content and do not need to rely on so many hashtags.
Putting It All Together
Posting on Facebook is one of the key ways a company can build and maintain a powerful social media presence. By planning a healthy posting schedule during peak viewing hours, and keeping in mind the different aspects of a post such as word length, image use, and additions such as hashtags, a marketer can greatly increase how much attention they get out of each of their Facebook posts.
* * * *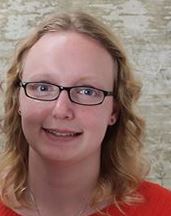 This post was authored by Elizabeth A. Beasley, Account Manager, Beasley Direct Marketing, Inc.
Elizabeth Beasley serves as an account manager at Beasley Direct Marketing, Inc www.BeasleyDirect.com.  Elizabeth manages new client on-boarding and accounts, social media, corporate presentations, corporate website, and database maintenance. She also serves as an account manager for the Direct Marketing Association of Northern California www.DMAnc.org, managing event logistics, registration and promotion. She holds a B.A. in Communications from National University.