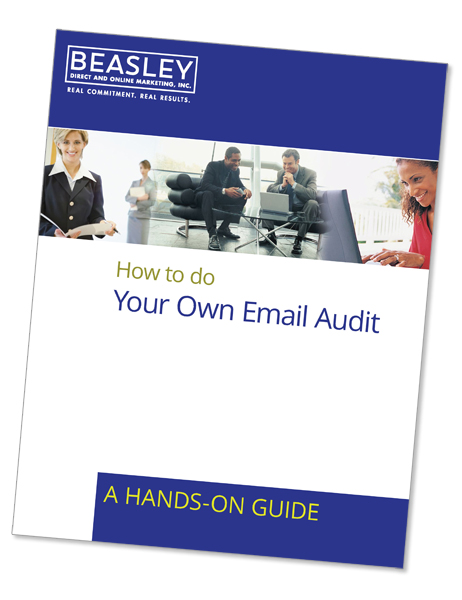 You've done your best to clean your list and deliver a compelling email message. But results are disappointing — and an audit shows that 10%, 20% or even more of your recipients never saw your message in the form you intended it. Unlikely? In fact, that's what we find in the majority of campaigns that are reviewed each year by Beasley Direct.
But now you can keep this scenario from coming true in your own email campaign. Just apply the best practices you'll learn in our new guide, "How to Do Your Own Email Audit". They're effective, they're proven, and they're yours when you Register Now.
Avoid common mistakes that keep your message from getting through.
Persuasive communication is an art form, but the design and delivery of email is a highly technical process. Eliminate steps in this process and your message may not get through, or may not be readable when it arrives. We'll show you how to avoid the biggest problems, including:
Why the most common way of composing email is also the most risky.
What you don't know about SPAM filters that can cost you response even if you're checking for spammy words and code.
How to send out a beautifully designed email that is completely unreadable to 52% of your audience.
Why some "delivered" messages actually never reach the recipient — and how to avoid this problem.
Many marketers would invest heavily for a 1-2% increase in their response. This guide will show you how to achieve a far greater lift, and with no expense at all.