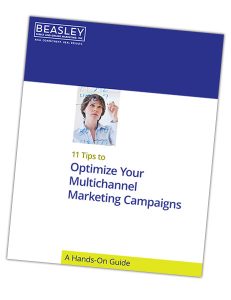 Today, thanks to the ubiquity of the internet, every marketing campaign can be called "multichannel". An attractive offer or potent message will be forwarded, tweeted and quoted until prospects see it multiple times and its reach extends beyond the original audience. We used to call this word of mouth – now it's viral marketing, and it's a highly persuasive sales tool.
But you don't have to wait for others to spread the word. You can create your own viral effect by strategically combining multiple media including email, direct mail, mobile, web, social marketing and more – instead of resorting to one or two of these media. That's the power of multichannel marketing.
Unfortunately, many traditional marketing organizations are not well equipped to go multichannel. They have separate centers of responsibility for each marketing channel. And, their measurement tools are not able to account for multiple touches against the same prospect. As a result, their campaigns miss out on multichannel synergies that improve ROI and brand perception and reduce marketing expenditures.
Read our guide to learn how to Optimize your Multichannel Campaigns to make them work harder.
In this guide we'll share our best suggestions for planning a potent multichannel direct marketing campaign, based on out own experience at Beasley Direct Marketing in working with both business-to-business (B-to-B) and business-to-consumer (B-to-C) organizations. We'll also include specific action items that can get you off ot a fast start.