By Laurie B. Beasley, Co-Founder and President, Beasley Direct Marketing, and Tom Judge, Vice President Strategy, Direct Marketing Partners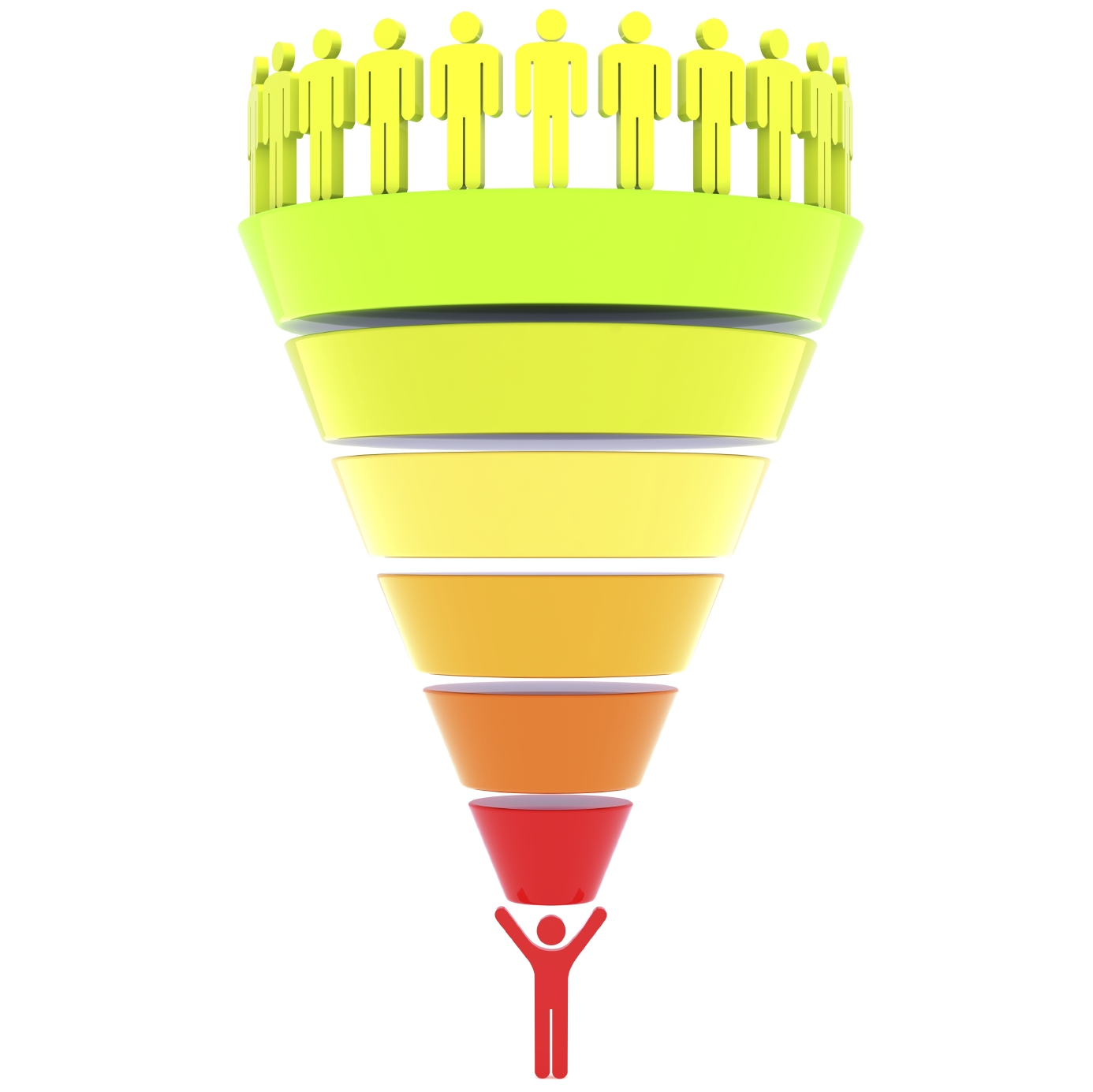 In our first post on this topic, we examined why Marketing is generating toofew sales-ready qualified leads and our solution to the problem; Marketing must take on the responsibility of pre-qualifying leads to a higher level prior to passing them along to Sales. Remember, sales resources are expensive and precious resources that we want to optimize. And studies prove that highly qualified "sales-ready" leads have a much higher lead acceptance rate and conversion rate into sales. However, developing leads to this level is no easy task. It can take seven to 13+ touches to generate sales-ready, qualified leads.
In this post, we're going to explore one of the primary reasons it takes so many touches.Sales requires a lot of data to determine whether the lead is qualified or not. This data is hard to get in one or two—or even three—touches. We're going to look more closely at the data that Sales requires to consider a lead "sales-ready qualified," and the importance of a multi-touch lead qualification process.
What is BANT Data?
BANT stands for Budget, Authority, Need and Timeframe (within which the lead needs/wants to purchase). (See Figure 1.) Note that BANT represents the categories of information that each company must customize for its unique sales scenarios. You must specify your company's version of what BANT means at your company. And yes, it's okay to rename your sales-ready criteria—just be sure to customize it.
The reason for all this is simple economics. A salesperson needs all or most of this information to determine if the prospect is a sufficiently qualified opportunity to stage a sales campaign with his/her limited resources. It sounds simple, but obtaining this information is a multi-step process.
Figure 1: A Prospect without BANT Data Is Just a Name to the Sales Team. Low-Value Leads Will Not Be Pursued.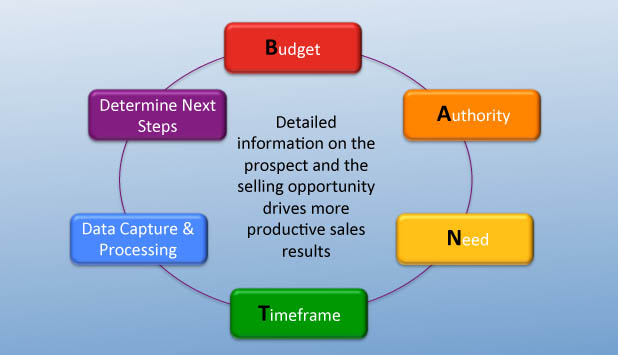 BANT criteria will vary from one company to the next. Not all BANT data may be available and some will be more important than others. For example, knowing need, timeframe and next steps may lead to a greater sense of urgency. When you're on the phone with a prospect you may also find out more valuable information to prime the lead for Sales, such as:What is the prospect's desired outcome; Who is on buying team; When the prospect needs to buy; what stage in the buying process they're in; whatinformationthey need that we can deliver for each stage in buying process.
Warning: as you evolve into more advanced levels of information exchanges, you must "earn the right" to ask these questions. This is NOT a salesperson discussion yet and prospects will rarely give this detail on line or on a web form landing page. You'll need a peer-to-peer level pre-sales lead development conversation to insert your company's value and create a credible relationship. Once the sales-ready information is gathered and the score moves into the "Qualified" zone, then you'll want the tele-qualification rep to close on the first meeting appointment with the sales team. The value to your sales team is that a sales-ready lead is delivered along with a positive relationship.
Setting Up the Sales Qualification Data
The Sales Department defines what criteria are required for a sales-ready prospect, not the Marketing team. So when you are designing a pre-qualification data gathering process, you must work very closely with Sales. As we mentioned in our last post, Sales and Marketing aren't always in synch, and there may be a considerable credibility gap. The first step is to develop a good working relationship with Sales.
In some successful cases, Marketing and Sales have actually created a "contract" of mutual support where the responsibilities of each department in supporting the other are spelled out. This document includes what Sales considers sales-ready criteria. It also states that If Marketing delivers on this higher caliber criteria, the Sales team will engage in the sales process within a stipulated timeframe—no exceptions.
Create a "Perfect Prospect Profile" that Sales and Marketing can both agree upon. Review the historical sales data (you'll need that good partnership with Sales to get this). Segment by customer types and review the profitability data for each segment. Understand the buying process in your industry, where customers go for information and how they typically purchase. (There are often several members of a buying team, and each may have his/her own agenda for the purchase.) Then build a buyer persona with the relevant messaging tracks for each segment.
People Buy from People
Marketing automation is great, and can be of tremendous assistance in automating some of the grunt work of the marketer. We endorse marketing automation tools, but in the B2B sales world, the fact is that 90% of inbound leads never turn into qualified sales opportunities because people buy from people, not from software. In addition, people are very reluctant to fill out response forms because they don't want to have salespeople interrupting their day with phone calls and emails. In any case, most people will provide only limited information online, if any.
Once a response form has been filled out, now is the time to engage in peer-to-peer discussions with the prospect. Start by building a relationship. Launching immediately into the BANT questions (Are you the purchaser? Do you have approved budget?) is a turnoff. First leverage the digitally collected information as a bridge to determine where the prospect is personally. Open-ended questions (rather than buttons on a web form) will accelerate this qualification process. What problem is the prospect trying to solve? Where does it hurt? What is going on in their world that triggered the need? What would be their perfect solution if they could describe it? Are they collecting information for a team? What's their timeline they are working with? What information would you need from us to be considered as your solution? Great phone/social skills are a huge plus here. And for most Sales teams, the earlier your prospect is in the buying process, the better—it gives your team a chance to be consultative and influence the specs, thereby gaining the inside track. Once you have enough data to determine BANT, try to move the prospect toward meeting with a sales rep. As a result of this process, most real prospects will see the meeting as a mutual best next step, and that's where most Sales teams want to be.
Marketing automation systems score the digital data collected from response forms, etc., but we believe that by itself, digital scoring is inadequate. Some claim this can be resolved by doing progressive profiling within marketing automation, but we have observed it is very difficult (if not impossible) to get the critically important BANT criteria established using progressive profiling and as we've said, prospects typically are not willing to divulge this information on lead forms. Devise a way of scoring non-digital data obtained via professional peer-to-peer phone conversations and other research. Figure 2 shows how digital and non-digital data can be combined to determine whether a prospect is sales-ready, and to add significant competitive advantage for the sales team, which will also boost lead acceptance rates and in turn, sales closure rates. This is the new "best practices" model for B2B selling firms. If you can get to this point, your firm will be at the top of its industry.
Figure 2: Sample of BANT+ Sales-Ready Lead Data.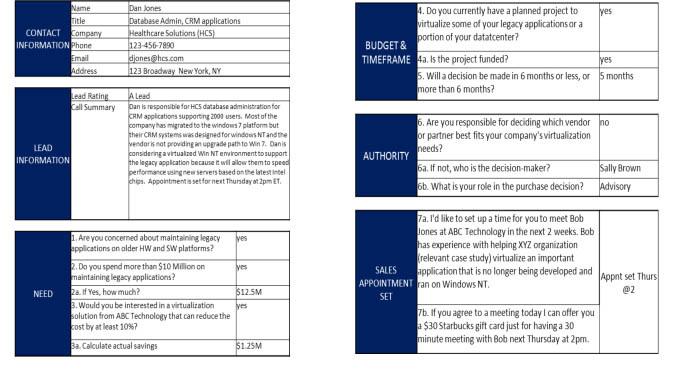 Source: Direct Marketing Partners
To further support these advanced levels of B2B lead development process Sirius Decisions added the tele-prospecting touch process into their highly respected lead-to-sales waterfall process. (See Figure 3.)
Figure 3: Tele-Qualification Increases the Quality of Sales Leads.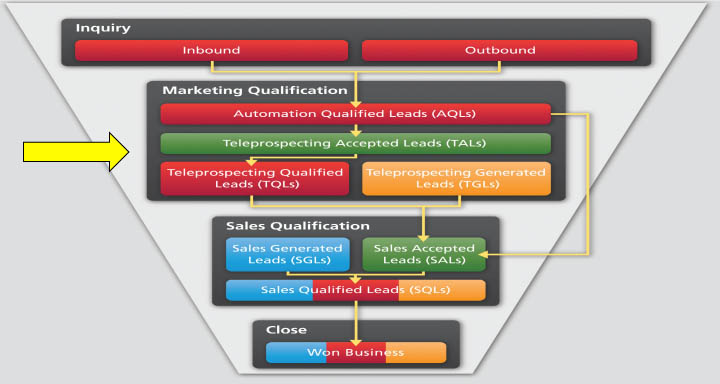 Source: Sirius Decisions
In our next installment on this topic, we will cover ways to shorten the lead-generation process, including ways to align Sales, Marketing and Management with your lead-qualification program.
* For more on this topic, please see our blog post, "Why Marketing Automation May Be Killing Good Marketing."
 * * * *
This blog was authored by Laurie B. Beasley, co-founder and president of Beasley Direct Marketing, Inc., and Tom Judge, vice president Strategy at Direct Marketing Partners.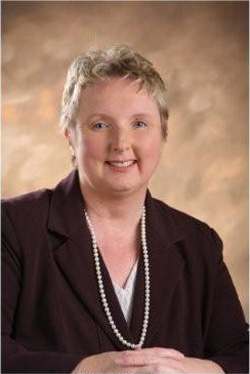 Beasley Direct is a Silicon Valley direct marketing agency that has managed search, email, online, and demand generation campaigns for nearly 100 companies. Ms. Beasley serves as President of the Direct Marketing Association of Northern Californiawww.DMAnc.org. She manages the eMarketing Roundtable for the BMA Northern Californiawww.NorCalBMA.org. She is also an instructor of online marketing at UC Berkeley Extension and teaches for the Online Marketing Institutewww.onlinemarketinginstitute.org. Ms. Beasley frequently speaks on online marketing and demand generation topics for marketing organizations, including the DMA, BMA, AMA, Tech Council, and the Online Marketing Summit.
Direct Marketing Partners (DMP) is a lead management and lead funnel tele-qualification services provider for B2B selling firms. Services include multi-touch peer to peer tele-prospecting and email lead gen campaigns with marketing automation and funnel metrics to optimize lead-to-sale conversions. Tom Judge provides strategic guidance for DMP clients and educational workshops on optimizing b2b lead-to-sales funnels for companies and at industry conferences. He also serves as the Vice President DMA Northern California Chapter, Contributor at Sales Lead Management Association www.salesleadmgmtassn.comProgram Chair for the NorCal BMA Sales Lead Roundtable www.norcalbma.orgFormer Instructor on Sales Lead Mgmt. . San Jose State University and UC Prof Dev. Programs.