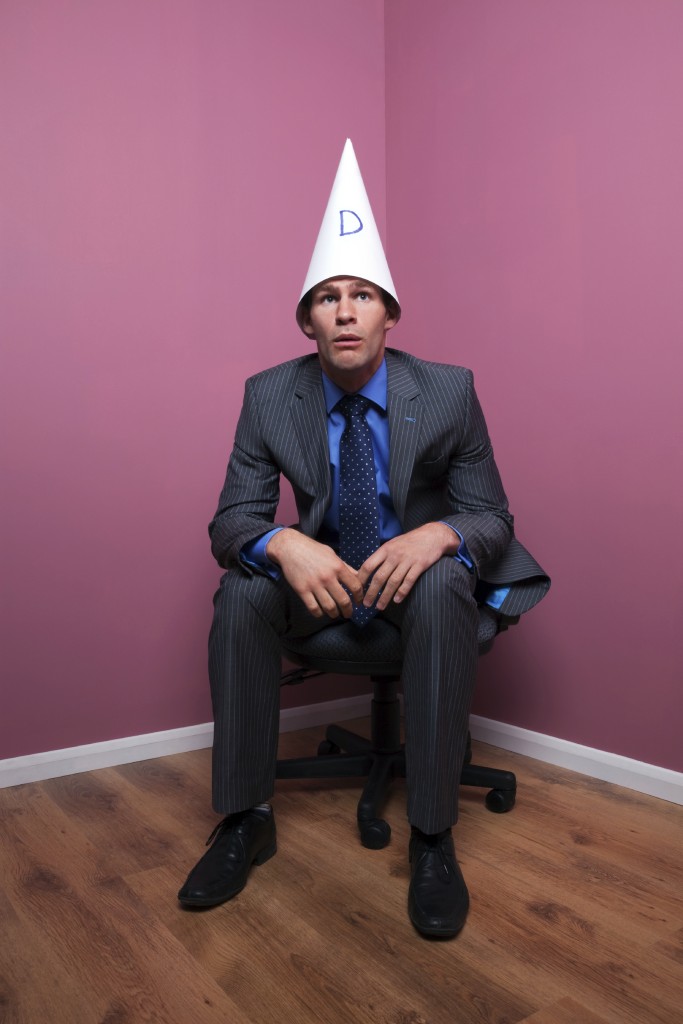 By John Thyfault, Vice President of Search & Social Strategy, Beasley Direct Marketing
Nothing arouses more alarm—even panic—in a web-intensive business than to get a manual penalty for "unnatural inbound links" from Google. If you have never received one of the warning messages shown in Figure 1, count yourself fortunate. But, don't get too complacent; it could happen to you, too. When Google places a manual penalty on your site, your search traffic plummets along with the leads and revenue generated by search.
Case in Point
Figure 1: Recent Example of a Google Manual Penalty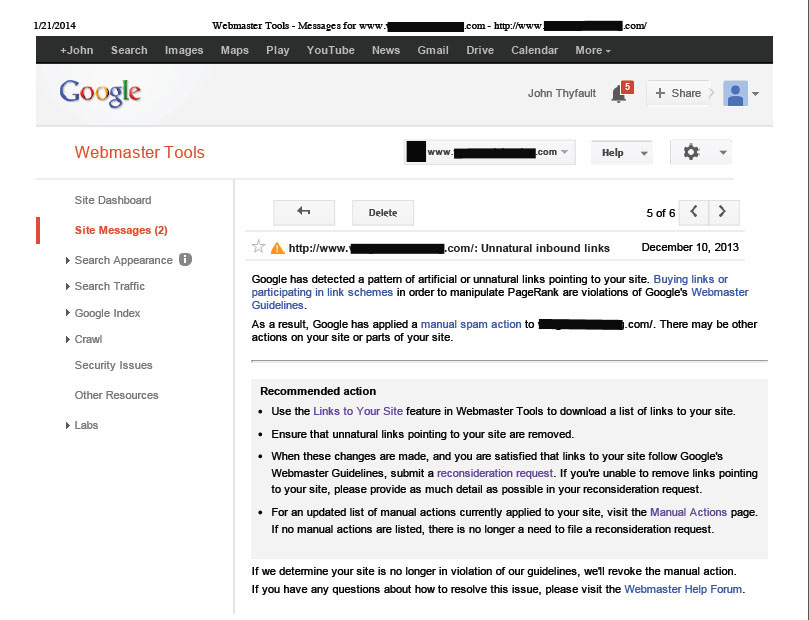 In this case, there were a number of links to the site that Google viewed as suspicious. That is, pointing to the possibility of the company having engaged in what Google calls "unnatural link building."1 An unnatural link is one that Google views as having no relationship to your site, or is from a suspect site. Furthermore, it exists probably because the site owner has engaged in buying links, participating in link exchanges or creating thin, poorly written articles/content and engaging in a paid content network. All of these practices are called out specifically in Google's Terms of Service (TOS) as forbidden. Figure 2 is an example of a link exchange site that posts your articles, with links back to your site. This might seem like a dandy idea, except that these sites don't care about the quality of the content. They care only about the links. Google, on the other hand, cares primarily about content quality and penalizes sites that have links from link exchanges.
What about Link Exchange Sites?
Figure 2: A Link Exchange Site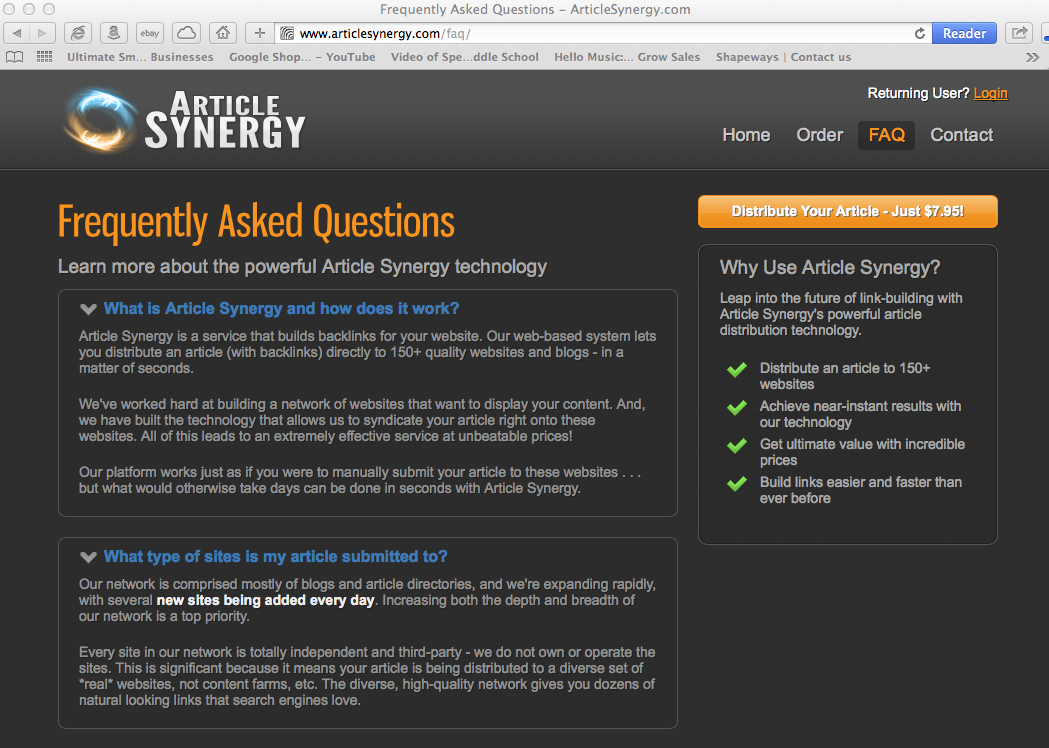 Usually, the "articles" on these sites are of minimal value, largely aimed at advertising products and services. They are often poorly written and riddled with typos and other mistakes. If you or your SEO consultants have been link building through such sites, rest assured you will eventually receive a warning and a penalty from Google.
However, links to your site are not 100% within your control. There may be links to your site from others trying to boost their search ranking by linking to your site and requesting a reciprocal link. Whether or not you reciprocate, the link may still be there. If you are selling graphic design services and the link is from, say, a machine shop, Google will view the link as bogus.
Consequences of Receiving a Google Warning
OK, so Google doesn't like the links to your site and tells you to clean up your act. What difference does that make? Google isn't exactly Interpol.
As it turns out, it can make a huge difference. A Google penalty removes you from the Google search results in full or in part. In one case that we know of personally, a company relied heavily on its web site for business development. They lost 82% of its traffic from Google during the penalty period¾about 62% of their overall traffic. This was the result of a limited manual spam action/penalty. This can be a tremendous blow to a company's revenue stream when it relies on the web for leads, sales and revenue.
Other companies have received full manual penalties. This is when they are pulled out of the index completely and NO traffic is driven to the site.
How Can You Regain Google's Approval?
When you receive a warning, it can deeply hurt your company's business and you need to attend to it immediately. In our next blog post, we'll tell you exactly how to go about fixing the problem and negotiating with Google for reinstatement.
1 For more detail on how to build links organically (in a Google-approved manner), please download our free white paper, "Link Building: Staying Current in a Shifting Landscape."
* * * *
About the Author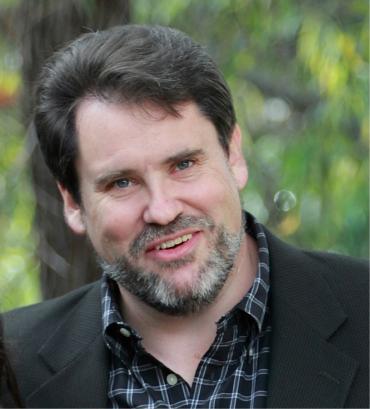 This post was authored by John Thyfault, Vice President of Search & Social Strategy, of Beasley Direct Marketing. Contact John at [email protected].
John has more than 18 years of marketing, sales and product development experience, and he brings a proven track record of successful campaign, program and product development expertise. His knowledge of search engine optimization and marketing, combined with an in-depth understanding of customer identification, market analysis and segmentation, allows him to deliver high returns on our client's marketing investment for both business-to-consumer and business-to-business markets.
Prior to working with Beasley Direct, John was Senior Client Services Project Director at ThirdAge.com, a first wave baby boomer lifestyle and community website. At ThirdAge he successfully led major client sponsorships for Fortune 100 companies in healthcare (Tylenol), financial services (American Century), technology (Intel & IBM) and consumer products areas (Revlon & Viactive). He was responsible for strategic and tactical goal setting, project management, new product creation and web site production. John previously worked in Channel Marketing and National Account Sales for IDG Books Worldwide, the publishers of the immensely popular "…For Dummies" book series. Additionally, he managed the wholesale distributor sales channel for Tor/Forge Books, an imprint of St. Martin's Press.
John is active in local marketing associations, including the Direct Marketing Association, the Business Marketing Association and is currently serving on the board of directors for the Silicon Valley American Marketing Association.
John has taught search engine marketing fundamentals extensively. He has led workshops for the Silicon Valley American Marketing Association, Northern California Direct Marketing Association (https://www.dmanc.org/) and the Business Marketing Association. He also teaches Search Engine Marketing at UCSC Extension (https://www.dmanc.org/) in Silicon Valley.