Anytime you have a high-ticket product and a hard-to-reach prospect, high-impact, dimensional direct mail could be the door opener you need. Let's take a look at three examples created for Anritsu. Anritsu is a manufacturer of testing equipment used in the mobile communications and electronics manufacturing industries.
CellMaster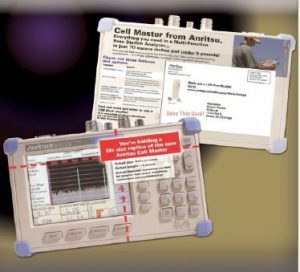 CellMaster is a multifunction tester used to troubleshoot cell phone towers by engineers in the field. The newest CellMaster was a breakthrough because it packed all the functionality of a 40 pound instrument into a case about the size of a piece of stationery. It weighed just 6 pounds—a critical improvement for techs who often have to climb the towers with the tester on their backs.
A life size die cut was created with minimal copy so the promotional piece would look as much as possible like the real thing. Because many in this audience respond by mail, a triple postcard was tipped on for additional selling copy. Then Anritsu "sweetened the pot" by offering an instant-win drawing for an iPod and inviting recipients to visit a personalized website to see if they had won.
A version of the die cut was created for insertion in trade publications, as well as a partner email for house and rented lists. All made the same offer of entry in the iPod sweepstakes plus a free technical publication when the reader registered to receive more product info.
The overall inbound phone, BRC, and click through responses were 8% for direct mail, 1.75% for email and .1% response for the print ad inserts. We also did outbound teleprospecting to the responders and non-responders, which generated a large group of extremely qualified leads. For a marketing budget of under $100,000, Anritsu enjoyed sales of over $1.5 million—a highly successful result.
Anritsu's BTS Master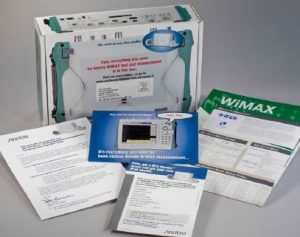 Anritsu's BTS Master had a similar benefit story aimed at a different link of the mobile communications chain: base stations used to transmit the cell signal. Several competitors were well entrenched with established testing products. So we had to convince the executive suite that Anritsu's product was so much faster, more accurate and more compact that they should consider it next time they needed a base station analyzer. Again, Anritsu turned to dimensional direct mail as a door opener.
This time the direct mail vehicle was a box. It was the size and shape of the BTS Master with a life-size depiction of its controls printed on all six sides. Inside were a letter, brochure and response card inviting prospects to come to a custom microsite where they could sign up for an in-person demo and receive an iPod preloaded with BTS Master technical material. All components were personalized, not only with the recipient's name but also with technical benefits which differ from carrier to carrier.
This campaign, with an email follow-up and outbound telemarketing, successfully qualified 8% of contacts as "sales ready leads"— a result 1,000%-4,000% better than the original projection. The campaign also won an International Echo and a MarCom award.
VectorStar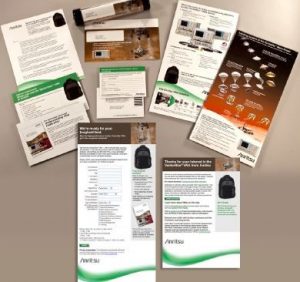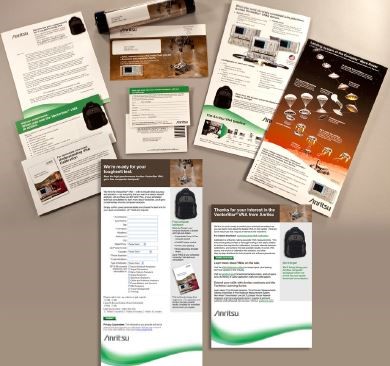 VectorStar was aimed at a completely different audience: electrical engineers who design and test equipment in labs. The VNA (Vector Network Analyzer) was actually invented by a predecessor company of Anritsu but the market had since been taken over by other, bigger competitors. A dimensional direct mail package aimed to turn things around.
Prospects received a poster, inside a transparent mailing tube, depicting the steps involved in the recent Mars Rover landing and the incredible precision required in planning for success. The VectorStar was shown in a corner of the poster, with a description of its features and benefits. The tie-in: "When a single error could mean failure of your mission, count on the VectorStar Vector Network Analyzer from Anritsu." This was an emotional rather than technical sell, inviting engineers to take pride in the accomplishments made possible by their work.
The Results of our Dimensional Direct Mail Campaign
This campaign produced a 167% improvement in qualified leads over previous campaign efforts. The campaign generated $3.8 million in sales during the three-month campaign window, with many more sales projected down the road.
There are several things the three campaigns have in common, beyond their success. Each engages the recipient with a dramatic story that also ties into the benefits of the product being sold. Each, through the obvious production quality, flatters the prospect as somebody who is worth an investment in education. And each makes a tangible offer (the VectorStar mailing promised a backpack or, for government titles not allowed to receive gifts, a VNA technical manual) as a reward for agreeing to a demo.
If you want to try a dimensional campaign in your own marketing, be sure to start with a high-quality list so you don't waste your money and your sales department's time on lookie-loos. And be sure to follow up diligently on each lead you generate.
* *The Author* *
Summary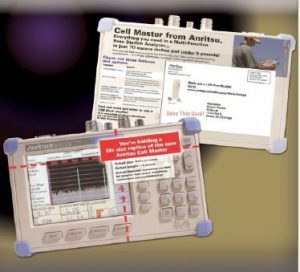 Article Name
Generating Qualified Sales Leads Using Dimensional Direct Mail
Description
Dimensional direct mail could be the door opener you need. Let's take a look at three examples created for Anritsu.
Author
Beasley Direct and Online Marketing, Inc.