By Kathy Keenan, Social Media Marketing Manager, Beasley Direct Marketing
Before there was such a thing as search engine optimization (SEO), copywriters were a wild and crazy bunch who sat around dreaming up ever-cooler and more creative ways to command the customer's attention and drag him or her to the cash register.
Those good old days are gone forever. Now copywriters have to understand online copywriting, which includes keywords, understanding metadata, and abiding by the continuously shifting rules of search engines. It feels like the creativity and spontaneity of the profession are gone.
This may be true on one level, but it also opens up fresh challenges. Working with these challenges can be a creative activity as well. For some of us, however, a quick reminder of best practices for digital online copywriting might be helpful.
Important SEO Stuff Over Which Copywriters Have No Control
You can write the best copy in the world and it won't be effective if the website for which you are writing is one of the Internet's seedier neighborhoods. You can't control this, but it is best to be aware of it. Here are some factors that cause search engines to downgrade sites, assuring that they will not come anywhere near the top of a search:
Poor-Quality Content: Search engines parse the writing quality of content. If content is poorly written, not relevant, self-promotional to the exclusion of value to the customer, or unoriginal, the site will be downgraded.
Poor-Quality Design/Graphics: Badly designed sites and sites with inappropriate or poor graphics are also downgraded.
Irrelevant or Broken Links: Sites with links to unrelated sites or with lots of broken links raise a red flag.
Un-curated Directories: Directories that are just a compilation of unrelated businesses or services, or with broken links are a warning sign to search engines.
Lots of Banner Ads, Calls to Action, Frequent Popups: These also signal sites that may be less than savory places to hang out, and search engines don't like them.
You might be writing for an entirely honest, well-intentioned firm, but if the website features any of the above problems, it's going to be difficult to get any SEO traction with your brilliant copy.
Understand Domain Authority
Search engines give a higher ranking to sites that are rich in original content. It is also important that the content be rated high in quality and of specific interest and value to your customers.
This means that re-using content from other sites should be kept to a minimum compared to content that is original to your site. The content also needs to be consistent in branding, tone and use of keywords.
The more you adhere to these guidelines, the better your ranking will be (assuming there are none of the issues addressed above getting in the way). This is known as domain authority, meaning that your site has original, valuable, high-quality content to offer your site visitors.
Keywords
When researching keywords, think about and use the actual language that your potential site visitors use when looking for information on what your site offers. Remember that most people use a search engine because they are looking for a specific answer to a question or a solution to a problem, so finding a site they already know about is generally a secondary concern. Keep this in mind as you begin the keyword discovery process.
Step One: Leave Your Pre-Conceptions at the Door 
Yes, you are the expert on your site and what it contains, but remember that the rest of the world does not necessarily speak your internal language when discussing your products and services.
Step Two: The Storm of Brains
Sit your communications, marketing, sales and support team around a table and start throwing out ideas. Each group will bring its own unique insights into how people discuss your products and services, some of which will be a surprise to the rest of the table. At this point, there are no wrong ideas; encourage the outlandish and crazy to come up with the gems that will drive the traffic to your site.
Step Three: Mix It Up and See What Else Comes Out
You have your base keyword list. Now start pouring it into various online tools to see what you may have missed and to garner some potential traffic and competitive data. There are a number of excellent tools online that can help you with this. Most of these will come up with suggested keywords and keyword variations, as well as give you the traffic competition data.
Our favorites at Beasley Direct are WordTracker.com, Google's AdWords Keyword Planner (requires a AdWords account), Keyword Discovery, Google Suggest (those fun little suggestions that drop down when entering a new search term in Google and Google Trends) for the latest hot searches and comparative data on your potential keywords.
Enter your base list of keywords into these tools and harvest the results. Use this data to compare the traffic potential to the number of other sites competing to appear for this word. The ideal is a highly relevant word to your product or service that has limited competition and good traffic. Remember the more sites with which you compete for a key word, the harder it is to achieve that rank.
Step Four: Time for a Haircut
Once you have the data in hand, you need to select the top 20 to 30 keywords for your site and start to assign them to individual pages and sections of the site, ideally selecting three to six keywords per page.
Step Five: Putting the Right Word in the Right Place
Now look at the pages, the file title, the page titles, headlines, picture/video captions and meta descriptions and start to work your selected keywords into the copy. (If your site is is missing this metadata, then it's time to introduce this to your site along with your new copy.) Remember that well-written copy is essential to any successful site and you need to prevent your keywords from overwhelming your copy. People like copy that reads naturally; "keyword stuffing" just to get the keywords on the page can hurt your site more than help. See Figure 1 for examples on where your key words should appear on every page.
Figure 1: Using Keywords on a Page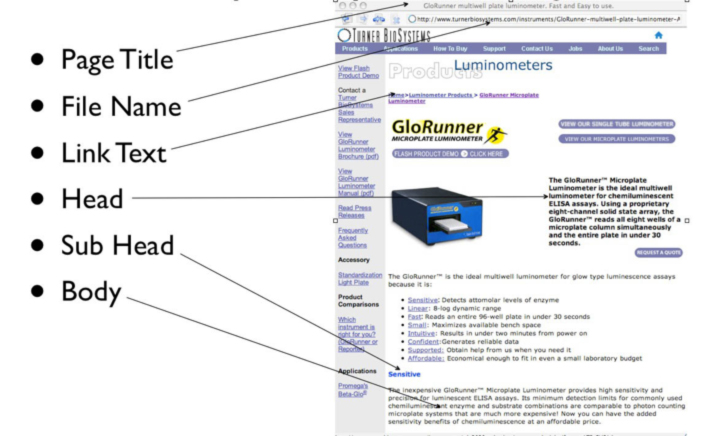 Step Six: Lather, Rinse, Repeat
Keyword development is an ongoing process that reflects changes in your marketplace and the larger web as a whole. You cannot just set it and forget it. Set aside time on a quarterly or bi-annual basis to re-examine your assumptions and perform fresh research.
Using Keywords in Copy
Now that you have your list of key words, the temptation is to sprinkle them like salt over everything you write. This may not be the best approach—remember that quality of writing is also a key aspect of writing for the Web. Cramming in keywords to achieve "density" will not improve your writing, and may make it worse. In any case, search engines don't give points for keyword density.
This may not work for you, but my approach is to write what I want to write. Then I eyeball the keyword list and make sure I have used the right ones at least once in every piece.
The title is perhaps the one exception. Using the right keywords in the title is critical. However, don't sacrifice "people-bait" for "machine bait." People will be attracted to an interesting title even if it doesn't have just the right key word. Search engines don't care much about creativity, but people do.
Use subheads with keywords if possible. Apart from organizing the page in the reader's eye, subheads are another opportunity to send the right signals to search engines.
Incidentally, search engines are smart enough to understand synonyms, related language and grammatical variations. So the precise keywords don't have to be used 100% of the time.
Graphics Count, Too
Once upon a time, copywriters didn't have to worry about graphics, but graphics have become increasingly important in search engine rankings. Search engines evaluate how well graphics are used, how relevant the graphics are, and their quality. Try to assure that the graphics are original (if possible), that keywords are used where relevant in captions, and that there is keyword-rich, descriptive alt copy in the graphic's file name.
Walk the Fine Line Between Too Short and Too Long
When it comes to copy length, the writer is caught between the machine and the man. People have increasingly short attention spans. According to a recent study by the National Center for Biotechnology Information, the human attention span is now eight seconds—one second less than goldfish. However, the average web page that appears on the first page of a Google search is 2,000 words. This poses a quandary for the poor copywriter. Write for the mayfly-mind of the human or the coldly analytical mind of the machine?
The best solution is probably to use as many words as are required to tell your story in a compelling fashion—and not one word more or less. Sorry not to be more specific, but the best length is probably between 300 and 2,000 words.
Get Your Content Out There
Getting your content on other sites is an important way to build your search engine ranking. It will help drive traffic to your site, it results in links pointing back at your site (be sure you have these links embedded in the text you send out), and it indicates to the search engines that others value your content.
In addition to using social media to distribute your content, look for re-blogging opportunities, industry forums, online magazines, newsletters, and so forth. Every content share boosts your domain authority.
For more information on how to research and use keywords for search engine optimization, read our free guide: Boosting SEO with an Organic Site Review.
****
This post was authored by Kathy Keenan.
Kathy brings a depth of experience in business and high technology communications, having worked in public relations, marketing communications, and social media for clients ranging from semiconductors and networking equipment to consumer goods. She worked as a senior writer/editor for Cisco Systems, Inc., developing thought leadership for C-level executives across industries ranging from health care to telephony. Before Cisco, Kathy worked for 10 years as a freelance writer and editor, working on marketing materials for a variety of clients.
Before becoming a freelancer, Kathy was CEO of Oak Ridge Public Relations, Inc., an award-winning PR agency in Silicon Valley, with clients such as IBM, Solectron, Philips Semiconductor, Bay Networks, Epson, and Xilinx. Kathy founded this company and managed it for 13 years.
Kathy was vice president of Tycer-Fultz-Bellack (now BBDO), formerly one of the largest advertising and PR firms in Silicon Valley. She managed a team of professionals who delivered strategic communications services to clients such as Informix, Exar, and Monolithic Memories. She started her career in PR at Acurex Corporation, an aerospace technology firm.
Kathy is a published novelist, writing under the name K.D. Keenan.