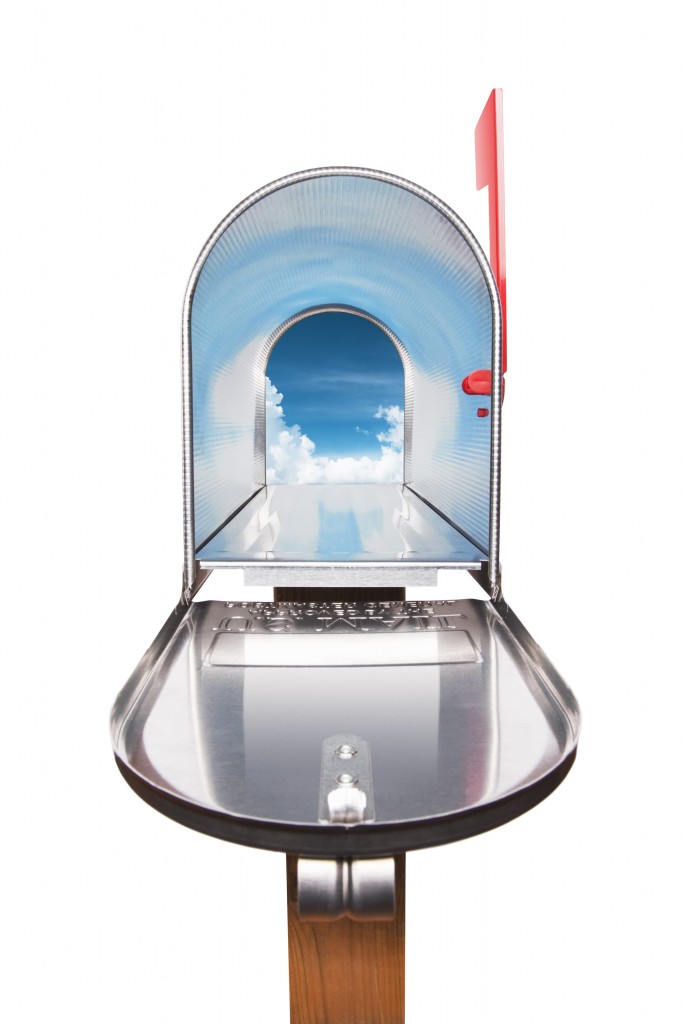 The new "DMA 2015 Statistical Fact Book" is out. Laurie Beasley, President of Beasley Direct Marketing, Inc., was chosen to write the intro to this year's Direct Mail Marketing section. Here are Laurie's key findings for effective direct mail:
For decades, direct mail was the workhorse of direct marketing. Then came the Internet, and some marketers migrated to far less expensive contact methods like email, online advertising and search marketing. The total number of direct mail pieces mailed each year steadily declined.
However, direct mail has been holding its own in recent years and some indicators point to a resurgence. According to the most recent USPS Household Diary Study, overall mail volume was down only slightly and standard mail volume actually increased. In fact, the percentage of total mail volume attributed to direct mail has steadily grown year by year, from 39.9% in 1990 to 56.9% in 2014.
Lower overall mail volumes should make it easier for a marketer's piece to stand out in the mailbox. But since the decline is primarily in first class, the competition in standard class advertising mail has become more intense. To increase direct mail effectiveness, marketers might want to consider making their pieces less promotional and more "official looking" like increasingly rare bills and statements (since more and more transactions are done online) to get the attention of a busy consumer.
As in past years, there are some encouraging trends. Response rates for most marketers have declined significantly since 1987, which accounts for a lower mail volume. But response rates for department store direct mail have increased 2.5 times during that same period. When mailing first class, both department stores and credit card marketers have seen their response rates double between 1987 and 2013.1
Department stores may have better geographic and customer information that allows them to target more selectively. Credit card companies may have better data on their best prospects, justifying the higher cost of first class mail. Does better data translate to better response? That hypothesis is supported by user diaries, where most retailers get very high scores for "read immediately" and "found useful"2
Better targeting with higher response rates makes direct mail more affordable. But the ultimate cost per order or per lead are always what count, and better response rates and better conversion with direct mail can offset the postage and printing costs that you don't have with electronic media.
Direct mail is also one of the most trackable and measurable of all media, boosting the quality of analytics for the campaign overall. A multichannel marketer knows when mail is arriving, and can use this knowledge to turn on the tap for other touch points such as email and telemarketing. Thus direct mail benefits other media and can boost the overall effectiveness of the multi-touch campaign.
For a final bright spot, take a look at the "will read immediately" numbers on Figure 1 below. Positive intent by 22-24 year olds increased from 35.6 to 41.2 percent 1987 to 2013. Perhaps marketers have learned how to target emerging consumers with relevant messages and offers.
Figure 1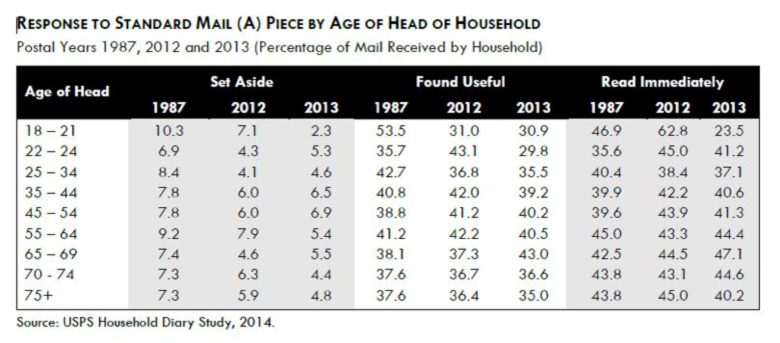 A new generation is reading your mail, and paying attention. Now it's up to you to train them and nurture them to become lifelong consumers and enthusiasts for direct mail marketing.
Find out more about the Direct Marketing Association here. Order The DMA 2015 Statistical Fact Book here.
For more information on how to create more successful direct mail programs, download our guide 10 Ways to Optimize Direct Mail Campaigns.
1 The DMA 2015 Statistical Fact Book, USPS Household Diary Study, 2014, p. 61.
2 The DMA 2015 Statistical Fact Book, USPS Household Diary Study, 2014, p. 68
* * * *
This blog was authored by Laurie B. Beasley, co-founder and president of Beasley Direct Marketing, Inc. Beasley Direct is a Silicon Valley direct marketing agency that has managed search, email, online, and demand generation campaigns for nearly 100 companies. Ms. Beasley serves as President of the Direct Marketing Association of Northern California. She manages the eMarketing Roundtable for the BMA Northern California (www.NorCalBMA.org). She is also an instructor of online marketing at UC Berkeley Extension and teaches for the Online Marketing Institute. Ms. Beasley frequently speaks on online marketing and demand generation topics for marketing organizations, including the DMA, BMA, AMA, Tech Council, and the Online Marketing Summit.