September 9, 2015

|

Comments Off

on Read our Guide: Why it Takes 7-13 Touches to Generate a Qualified B2B Sales Lead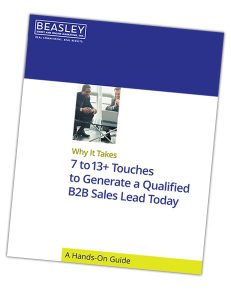 After years of tracking metrics and diagnosing lead-to-sales funnels for more than 100 firms, we have determined that it can easily take seven to 13-plus touches to deliver a fully qualified B2B lead to the Sales department. Rarely can anyone get away with only one (or even a few) communications efforts to fully profile and score a sales-ready lead. The good news: there are many things you can do to shorten the sales-lead generation qualification process. We outline them in this lead generation guide.
Read this lead generation guide to learn:
Why sales and marketing live in separate worlds, and how to bridge the gap.
Why most prospects never receive enough touches, and how to fix it.
And, why it takes so many touches, and 12 ways to shorten the lead nurturing process.
Plus, two multi-touch, multi-channel case studies.
Fill out the short form below to access the guide.