Anritsu VectorStar – Multichannel Marketing
Anritsu VectorStar – Multichannel Marketing
Project Details
Client
Anritsu VectorStar
Project Description
Multichannel Marketing – Anritsu VectorStar Integrated Marketing Campaign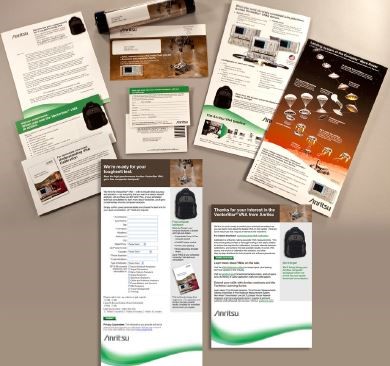 Anritsu's VectorStar Vector Network Analyzer (VNA) is used to measure microwave and mm-wave frequencies in design, testing and manufacture of electronic components. Extreme accuracy is required. It generates a signal which is compared with either the signal transmitted through the test device or the signal reflected from its input.
The new-generation Anritsu VectorStar VNAs provide more accurate measurements. Also, it helps customers confirm their device designs and accuracy faster, compared to its competitors. VectorStar requires much less frequent recalibration, a particular problem with on-chip testing.
The primary audience for this campaign is electrical engineers (EE's). They think in a very methodical way and want you to "prove it". As a result, they require detailed specs and technical information to make a buying decision. They are not at all impressed by marketing copy and claims that are not backed by statistics.
A number of concepts were presented
Concepts presented included some based on Anritsu's unique and pioneering role as the inventor of the VNA. Additional concepts included various metaphors that illustrated the key product benefits fulfilled by VectorStar. The chosen concept focused on the Mars Curiosity Rover. It had made a spectacularly successful landing on Mars about the time this project began. We pointed out the extreme precision this required, and then made the transition to the reader. We think of the NASA and JPL engineers as heroes, but you are required to make equally exacting measurements every day. That's why you deserve an instrument like the VectorStar.
This program utilized a multi-touch nurture process that started with a warm up email, followed by a dimensional direct mail piece, followed approximately one week later by an email to the same audience with the same theme and offer, and finally by an outbound tele-prospecting campaign.
In conclusion, the campaign objective was to communicate the Anritsu value proposition and offers with target prospects to create awareness of the Anritsu VectorStar solution. As a result, we ultimately generated face-to-face consultation meetings with qualified firms. The campaign developed 167% more leads than the goal.
How can we help you achieve your lead and sales goals? Call us today.