Project Description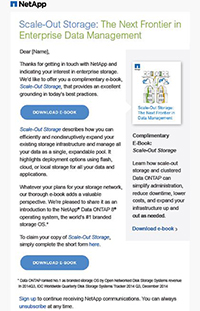 NetApp provides software, systems and services to manage and store data. When a new prospect comes onto their website looking for information, they want it served up in a useful manner that helps educate them on a solution to a problem. Their previous nurture programs were neither welcoming nor gratifying with useful and pithy information. They also were not formatted to be viewed well on mobile or in Outlook.
That's where we came in. We re-wrote all of the copy for a multi-touch series to deliver a pithy message on the prospect's problem and the NetApp solution. We chose analyst reports, guides and fact sheets that helped deliver useful information in a nurture series — and depending on their answers to progressive profiling– we delivered more pertinent information as the series continued.
We also did an email template re-design that reflected recent changes to the NetApp brand along with making them more readable in mobile and on the desktop in Outlook where images are blocked by default. The templates were also optimized for use in Eloqua, where they could be edited with ease by non-technical staff.
Is your prospect nurture program not meeting ROI goals? NASDAQ listed NetApp (NTAP) hired Beasley's Email Nurture experts to create a winning strategy. We met their goals. Let's discuss how we can improve your company's Email Nurture program and ROI. Call us today.