May 28, 2013

|

Comments Off

on Laurie Beasley speaking on "11 Tips to Optimize Your Multi-Channel Marketing Campaigns" at Integrated Marketing Week
May 28, 2013
MORGAN HILL, CA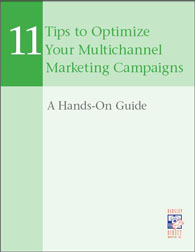 News Facts:
Laurie Beasley, President of Beasley Direct Marketing, Inc. (www.BeasleyDirect.com) of Northern California will be speaking on the topic "11 Tips to Optimize Your Multi Channel Marketing Campaigns" at Integrated Marketing Week, June 10-13, 2013 in New York City.
About us:
Beasley Direct Marketing, Inc. (www.BeasleyDirect.com) is known for bringing the latest marketing strategies to online and direct marketing. Beasley Direct provides services in email marketing, search engine optimization, social media, pay-per-click (PPC) advertising, website design, media planning, direct mail marketing, lead generation and nurture campaigns, and database management. Beasley Direct Marketing, Inc. helps clients in both B2B and B2C marketing. Beasley Direct Marketing is privately held and headquartered in the Silicon Valley suburb, Morgan Hill, California. For more information, go to www.BeasleyDirect.com or call Laurie Beasley, President, at 408-782-0046 x21 or email [email protected].
Integrated Marketing Week www.imweek.org is the premier event for marketers who are looking to effectively deliver a unified customer message across ALL marketing channels, while also optimizing their marketing budget.
Contact:
Laurie B. Beasley
Ph: 408-782-0046 x21
Fx: 408-782-9604
[email protected]