January 1, 2013

|

Comments Off

on Laurie Beasley named among SLMA's Top-50
January 1, 2013
MORGAN HILL, CA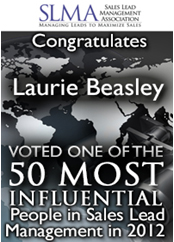 News Facts:
Laurie Beasley, President of Beasley Direct Marketing, Inc. (www.BeasleyDirect.com) of Northern California has been named in the Top 50 Most Influential in Sales Lead Management, by the Sales Lead Management Association. The Sales Lead Management Association, (SLMA) announced the results of the voting for the Most Influential People in Sales Lead Management in 2012. 34.4% of the members (2,117 of 6,139) cast votes in the SLMA's first members only election, (previous elections were open to the public). Nominees came from many diverse disciplines including CRM Software and Marketing Automation Software , telemarketing, database management, conference management, fulfillment, consulting and publishing companies.Jim Obermayer, President of the Sales Lead Management Association, said, "These are people who have given their time and expertise in the field of lead management and are now recognized by their peers for outstanding work. They are champions of wealth generation and we thank them for their unselfish efforts."
About us:
Beasley Direct Marketing, Inc. (www.BeasleyDirect.com) is known for bringing the latest marketing strategies to online and direct marketing. Beasley Direct provides services in email marketing, search engine optimization, social media, pay-per-click (PPC) advertising, website design, media planning, direct mail marketing, lead generation and nurture campaigns, and database management. Beasley Direct Marketing, Inc. helps clients in both B2B and B2C marketing. Beasley Direct Marketing is privately held and headquartered in the Silicon Valley suburb, Morgan Hill, California. For more information, go to www.BeasleyDirect.com or call Laurie Beasley, President, at 408-782-0046 x21 or email [email protected].
Sales Lead Management Association www.salesleadmgmtassn.com The mission of the SLMA is to help companies become successful in the critical business process of managing sales leads. For more information about SLMA, call Sue Campanale at 714-637-6989. The SLMA also hosts its weekly SLMA Radio program, which reports the news of lead management and interviews CEOs and CMOs in B2B and B2C. Membership in the SLMA is free.
Contact:
Laurie B. Beasley
Ph: 408-782-0046 x21
Fx: 408-782-9604
[email protected]