How We Developed Sales Call Guides for NetApp's Sales Department
How We Developed Sales Call Guides for NetApp's Sales Department
Project Description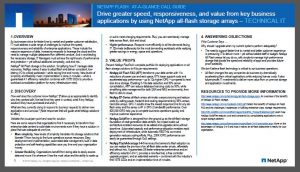 NetApp provides software, systems and services to manage and store data. Netapp helps customers capitalize on the value of their data in the hybrid cloud through their Data Fabric strategy, data management expertise, portfolio and ecosystem.
We helped the NetApp sales department by providing a series of Sales Call Guides that provided a quick summary of product data points and a line of questioning to determine the level of qualification for the prospect.
Are too many of your sales prospects being mis-qualified? Our content writing experts can create Sales Call Guides that effectively and efficiently classify and route sales prospects. Call us today!