How We Helped Libratone Prospective Customers Free Their Music
How We Helped Libratone Prospective Customers Free Their Music
Project Description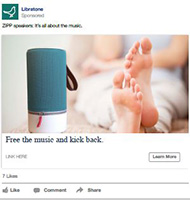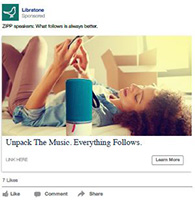 Libratone is one of the first audio companies to consider the aesthetics of speakers – to move them out of the corner of the room and into the center and onward, for the consumer on the move. Designed in the Scandinavian tradition, Libratone creates high performing sound refined through plush fabrics for a warmer, brighter listening experience.
They asked us to help them bring the experience of enjoying a Libratone speaker into social media. We created a series of Facebook Ads showing their ZIPP speaker being enjoyed in the midst of everyday life and home settings.
Are you struggling with your Facebook ad campaign? High cost, low sales? Beasley's Facebook ads developer team can help your campaign become successful. Call us today.