Project Description
Our Rovi RIPGuard Print Ad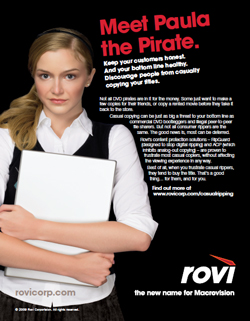 Most video copiers look innocent enough, however they cost video producers millions of dollars each year. This ad takes the approach that even a school girl can be your next video pirate and Rovi's RIPGuard is the best way to stop her.
Contact us now and get a free consultation on creating print ads and campaigns.
Get a FREE PPC Audit (learn more).
Get a FREE SEO Audit (learn more).