How We Designed a New Responsive Email Nurture Template for Centric Software and Translated into Spanish
How We Designed a New Responsive Email Nurture Template for Centric Software and Translated into Spanish
Project Description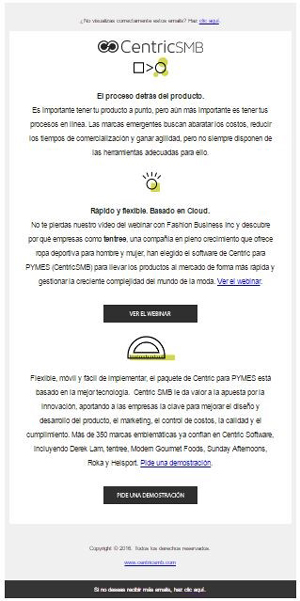 Centric Software is the innovative leader in delivering PLM (Product Line Manufacturing) solutions developed exclusively for retail, fashion, footwear, luxury and consumer goods companies.
We redesigned and reprogrammed their email nurture templates in Pardot to be more desktop and mobile friendly, and to serve the needs of multiple languages, which require more flexibility in the headline and copy areas. The templates are now in use by every regional marketing office, worldwide.
Beasley's experts can convert your existing email templates into multiple languages creating successful international marketing campaigns. Call us now.