September 5, 2017

|

Uncategorized

|

Comments Off

on Connecting Offline Telephone Leads To Pay-Per-Click Leads Traffic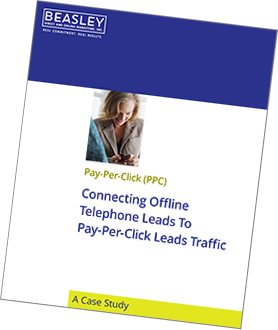 Read this pay-per-click (PPC) marketing case study to learn how to connect offline telephone leads to your PPC campaign. Often a higher touch and more personal approach via a telephone conversation is needed to complete the sale for higher priced, complex sale products. This is the case for a recent regional mortgage lending client, who saw a much higher historical conversion from telephone lead-to-loan applications than from web form-to-loan applications—and they wished to take advantage of this and drive more telephone leads via PPC.
Driving these calls through PPC is a great way to increase your call volume. But, it can be challenging to attribute the right call to the right campaign or ad group if you are using a third party call tracking system. Beasley Direct and Online Marketing, Inc. has dealt with this on several occasions. We have developed a good approach to maximize our client's return on ad spend for inbound calls. Read our case study to see how we solved this attribution problem and maximized the client's ad spend to achieve loan applications.
Just complete the information below for instant access to your free copy of our case study Connecting Offline Telephone Leads to Pay-Per-Click Leads Traffic.